Did you know you don't have to spend hours upping your book marketing game? You can make considerable improvements to your marketing strategy in only one afternoon and start enjoying more self-publishing success.
Below you'll find five quick ways you can give your book marketing efforts a boost.
1. Publish Your Book to All Platforms
Your book marketing efforts might be stymied by a lack of purchasing options. While Amazon is the 'final boss' when it comes to book sales, your book marketing can benefit from the added visibility of being on multiple platforms. 

However, listing your book on every platform is time consuming, and certainly not achievable in an afternoon. That's why I suggest using a service like Draft2Digital to get your book listed on multiple sites for no up-front cost.
Basically, with Draft2Digital, you upload your manuscript in ePub or another common eBook format and fill in your book description and important information. You can publish your book on any (or all) of the following retail sites in about ten minutes work:
Amazon
Apple Books
Barnes & Noble
Kobo
Scribd
Tolino
24Symbols
OverDrive
Bibliotheca
Baker & Taylor
Hoopla
Draft2Digital doesn't charge you anything to list your book on all platforms. However, they do take a 10% cut from your royalties. This is a great way to get your book out there fast, and it will leave you more time for what you do best: writing.

Obviously, if you're in a genre that relies mainly on Kindle Unlimited page reads, you won't be pushing all your books wide. But if you feel that it's time for you to reach a wider variety of readers… well, you know where to look.
2. Sign up to Book Promo Sites
Book promotion sites are a great way to get new readers for your book. Basically, if you haven't used a promo site before, they have a hyper-targeted email list or social media account filled with readers in your genre. They then promote a range of books to those readers and usually collect an Amazon affiliate fee whenever someone makes a purchase. Think of the affiliate fee kind of like a finders fee.
I suggest you use a combination of free and paid book promotion sites to get your book in front of more eyes. When it comes to free sites, some can be hit and miss. Expect better results with a paid site. I've created a list of over one-hundred free and paid book promotion sites that you can check out. Keep in mind that all sites will have their own terms and conditions for submission, so double-check that your book qualifies.
I haven't tried out every book promotion site on that huge list, so do your due diligence and research them first. However, here are a couple of my favorite sites from the list:
BKnights on Fiverr: Look, I wouldn't recommend Fiverr for everything when it comes to marketing, but BKnights' promo site is absolutely amazing. I always get great results with his or her service, and you can promote both paid and free books.
Inkitt: I love Inkitt for two main reasons. One, they have a bunch of dedicated readers on their platform. Secondly, if your book is popular with their readers, they'll potentially offer you a publishing deal that can be worth thousands of dollars.
Realistically, you can apply for six or seven sites in under an hour and give your marketing a boost, which can turn out to be an incredible return on investment for your time.
3. Get Newsletter Swaps
An email list of excited readers is the most valuable asset in your business. One of the negatives of using platforms like Amazon to sell your books is that you don't get customer information. And if, heaven forbid, anything had to happen to the platform or your account, you'd loose all your readers, simply by virtue of never having been in contact with them.
This is why I highly recommend building an email list of subscribers who are hungry for your books.
Having that email list opens you up to marketing opportunities. Newsletter swaps for instance, are an incredibly effective way to market your book.
In simple terms, a newsletter swap is where two authors of a similar genre share each others' books in their upcoming email blasts. Usually, these swaps will include the book's cover image and a blurb so the audience can get a feel for what the book's about.

Swaps work well for two main reasons:
You're getting your book out to a brand new set of readers in your genre. That is a huge benefit and has a great monetary value in itself.
Your book is being recommended by another person. Think of it almost like the author you're swapping with is vouching for your book. People tend to trust recommendations from people they feel close to or admire.
Find newsletter swaps by reaching out to any authors you've met in the past or posting in genre and author specific forums or Facebook groups.
Or you could go the quick and easy route…
StoryOrigin has an awesome email swap feature and organizational calendar for scheduling swaps and promos. You can find other authors in your genre that are offering email swaps and request book mentions straight away. StoryOrigin even shows you how big the other person's email list is, plus their open and click-through rates. You can also separate out potential swaps by genre. 
Keep in mind, this is an email newsletter swap, so that means you need a decent email list and open rates to take part.
4. Take Part in Group Promotions
I'm a firm believer that a rising tide lifts all boats. Group promotions are a fantastic tool for advertising your books to a range of new readers. They work in a similar way to newsletter swaps. All authors involved submit their material to the promotion, usually a lead magnet, free book or discount, and then promote the entire giveaway to their list. The bigger the promotion, the more authors share your work.
Readers then visit the giveaway and sign up for the freebies and giveaways that interest them. Group promotions are a great way to grow your email list and get a lot of new fans quickly. I've used them as an author and a customer before and have found great success — plus a few bargains!
There are a bunch of sites and services out there that organize group promotions.
However, I love the way StoryOrigin goes about creating group promotions. They're all user-submitted, organized by book category (so you can promote to a relevant audience) and there's plenty of different promo types you can take part in:
Giveaways
Kindle Unlimited Promotions
Sales
Reviews
Audiobook Reviews
When you consider how long it used to take to find and apply for group promotions, the fact StoryOrigin lets you do it in a matter of minutes is an absolute game-changer.

Another great promo tool? Bookfunnel. They work similarly to StoryOrigin, the exception being that to join Bookfunnel promos, you'll have to pay a set fee to the site. It's well-worth it, but if you're strapped for cash, StoryOrigin is a great alternative
5. Use Amazon Ads
I'm a huge fan of advertising on Amazon. And for good reason — when you use Amazon ads you're promoting to people when they're already looking to purchase a book. These ads are a direct form of marketing that gives you the "starving crowd" that famous copywriter and marketer, Gary Halbert talks about.
What's the difference between, say, Amazing Advertising and Facebook ads? Facebook, while great for authors, is a distraction marketing platform. You're hoping that leads care enough about your ad to stop what there doing and leave Facebook. Then you hope that your blurb, book cover, and excerpt are enough to encourage them to buy. 
Facebook ads are powerful, but if you're looking to boost your marketing in an afternoon, Amazon ads are the way to go. A reader who's already looking for a book on Amazon is far more likely to click through and purchase.
Another benefit of Amazon ads is you get to choose where and when your book shows up on the platform. For example, if you've written a book that Harry Potter fans will like, you can advertise on the Harry Potter Amazon sales page. Though, you'd have a stack of competition. So maybe not the best option for an indie author with a small budget. 

Getting started with Amazon Advertising can be a little intimidating, and that's why I offer a free course on the topic to walk you through what you need to get started.
Final Thoughts
Book marketing doesn't have to be a pain in the rear. The simple methods I've listed above are just a few of the awesome techniques you can use to level up your marketing efforts. It's easier than ever to increase your sales, and the fact that some of these tools are free to use is just a bonus.
Try to take one step at a time, don't rush yourself to do everything at once, but set out a plan and schedule what you're going to do and when. Then get to it! Good luck.
Cheers!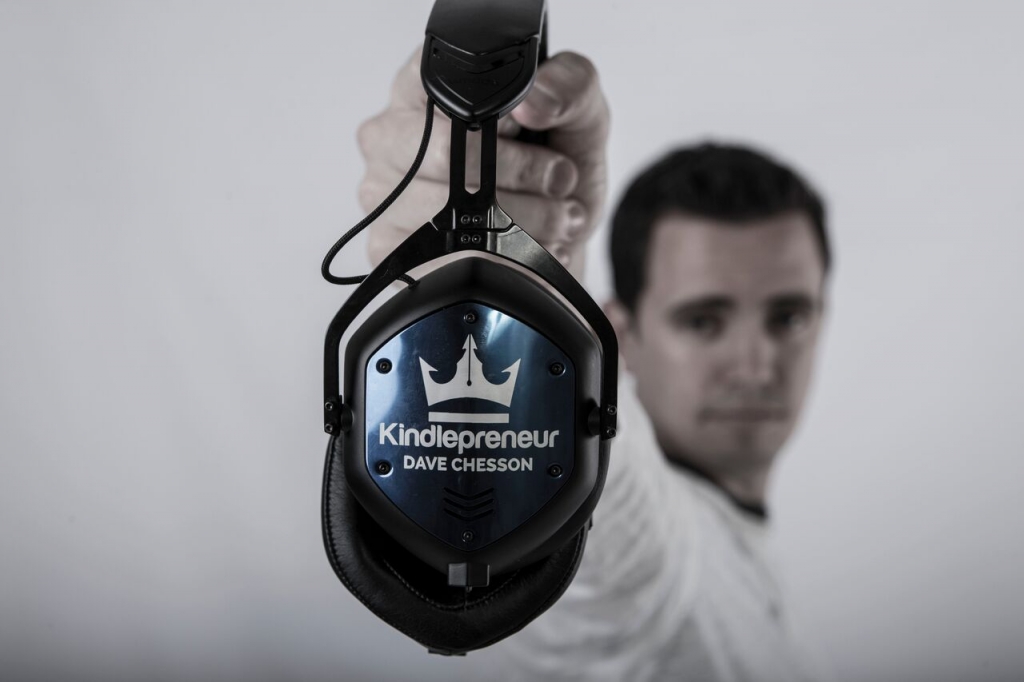 About the author: This is a guest post by Dave Chesson. He  teaches authors advanced book marketing tactics at Kindlepreneur.com. His most recent project is the Book Marketing Show, Dave's contribution to the world of publishing podcasts. He is also the creator of the leading Kindle research and advertising software, KDP Rocket.
Comments
comments