ALL YOU NEED FOR SUCCESSFUL SELF-PUBLISHING IN ONE CONVENIENT PLACE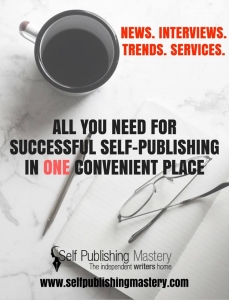 Welcome to selfpublishingmastery.com, the indie authors' home.  We are here to help you achieve your writing career goals, make your life easier and better, save you precious time, energy, and money.
This online platform about self-publishing offers all you need for successful self-publishing in one convenient place.We provide FREE KNOWLEDGE, for those who embrace the DYI self-publishing model, and HIGH-QUALITY SERVICES for those who don't want to cut off on their writing time.
You don't need to navigate on various websits anymore, or spend hours googling. With one click, you can access the latest news, interviews, success stories, trends, industry events, and resources. We cover all the steps of the self-publishing process, from editing and book cover design, to book launch events, and marketing. We talk to the experts in the industry to find out the tips and tricks that will help you to reach your goals.
Since self-publishing is based on a model of collaboration, we welcome those authors who are willing to share their experience with guest posts. For more details, please check the WRITE FOR US page.
For us, as for most of you, this is just the beginning. We'll make sure to improve and add more features that meet your needs and expectations. In the meantime, make sure to claim your gift.
THE WELCOME TOOLKIT, valued at $49, that will help you to rock your book launch. 
The toolkit includes:
◉ The book launch checklist
◉ The Editing Tutorial Guide For Authors by Jami Lynn Sands
◉ An up-to-date list of the Top 20 Amazon Book Reviewers
◉ A 10% discount coupon for any of our services valid for your first order.
How do you get your copy ? The fastest and easiest possible way:
Send an e-mail now to contact@selfpublishingmastery.com with the title "I want my FREE Welcome Toolkit" or by subscribing to our news-letter and you will get in your inbox right away.