Authors, Agents, and Aspiring Writers is one of the largest author Facebook groups. It is moderated by a group of great romance writers (we recommend their books):Marie-Claude BourqueIt, Candace (Candi) D. Wall, Jennifer (Jenn) Bray-Weber, John D. Roundtree, Stacey Purcell, and Saranna DeWylde.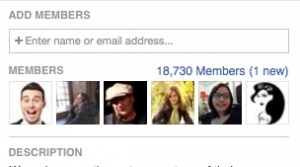 It welcomes authors at every stage of their career and all things writing. It is a buy and sell group, where you can promote your book, online course, or any other self-publishing related services you might offer. Bear in mind that you are not allowed to post the same link/cover/promo more than once a day. You are free to promo new releases, your books, your writing blogs, your thoughts on writing and always ask for help from others to improve your craft.
The level of interaction between members is a bit  smaller than in others groups; the focus is on selling/promoting books and services. As we are writing  this article, there are up to 1000 items for sale. The group might a good place to promote your blog if your posts are writing related and  help to establish you as an expert in a certain field (such as editing, cover design or marketing).
Joining procedure: joining is free. The group is open.
Posting policy: the posts need to comply with the general policy of the group. The moderators will not allow anything that is an attack, degrading, or considered bigotry in any form.
Comments
comments