The BooksGoSocial Authors Group was created by the promotional book service for authors with the same name. It has 10k members from three different continents: North America, Australia, Europe.
This group is for writers who have self- published or traditionally published a book.
"BooksGoSocial Authors' Group is designed to put our authors in touch with one another, to provide mutual support through discussion, tips,  and reviews of one another's work.
It is a platform for BooksGoSocial authors to be in contact with other authors who are also in the process marketing their work and writing other books."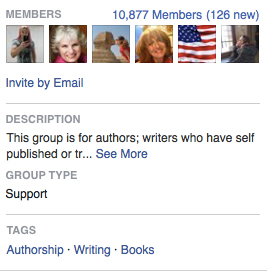 What we like most about this group is that its founder is invested and actively involved in it. Best-selling author and digital marketing expert Laurence O'Bryan is always monitoring the group's activity and replying to questions and comments. He is also offering weekly live coaching sessions on various topics related to self-publishing (from book covers to promotion) using Facebook live. The members 'questions, posted in advance, are being answered during the session
Authors get to know each other and grow their audiences with initiatives such as "Facebook Page Like Day." They are also encouraged to support each other and share their experiences as self-published authors.
The high quality of the members is another of the highlights in this group. Many of them – such as the J.J. Toner, Margaret Murphy, Jean Gill, Lynnda Pollio are already established names in the self-publishing industry.
BGS Authors Group is a place where authors don't just ask questions; they also share their successes and challenges. The willingness to help, the openness to share and the genuine happiness for the success of the others are a common trait of the group.
Joining procedure: joining BGS Authors' Group is free. Since it is a closed group, you need to send a join request to be approved.
Posting policy: the posts need to comply with the general policy of the group. They also need to be approved by the group's admin to be visible. Don't worry, someone is always keeping an eye on the group and providing that you respect the rules, it will be up in no time.
Comments
comments