As from 2017, Reader's Favorite quality seal has a contender. BooksGoSocial.com, one of the main book promotion services for indie authors and small presses, launches a new service for authors. Books Go Social Quality Mark is a unique identifier that proves your book has been quality checked by both an automated and human assessor.
It's low cost and includes proven automated and human assessment elements. The Quality Mark will help you to identify the missed error in your book. The report you will get  will save you time and money and highlight the key issues readers will notice.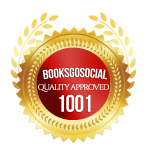 It will also help you to increase your reader base and your income by ensuring that readers receive a quality product and letting them know that you are committed to quality.
Last, but not least, it will support your efforts to write great novels or short stories by  helping you to assess areas you need to focus on as a writer and what may be holding you back.
Once your book scores above 40, you will be allowed to use the Quality Mark in all promotions, online and off.
I believe that the key issue for self-published authors has always been about quality. It's about persuading readers that the quality of our book is up to the standard of anything they can get from any publishing house from anywhere around the world. Self-published authors need access to reasonable priced editing services. The Quality Mark will help you to validate your book and tell the readers that your book is a quality product," says Laurence O'Bryan, founder of BooksGoSocial.com
Prices for the service start at $25.
Comments
comments