Dete Meserve, the acclaimed author of  Good Sam (a bestselling novel soon-to-be a motion picture on Netflix worldwide), is about to release a new book, Random Acts of Kindness. Fans, friends, writers, and book lovers are invited to the official launch event.
The event will take place on Facebook, on Tuesday, March 26th, starting at 7 PM PDT. Join Dete Meserve and Rachel Greco, co-author of the book,  for a fun launch party.  Meet and chat with authors, participate in engaging discussions, and win one of the many  giveaways!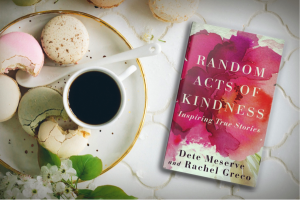 The true, inspiring tales in Random Acts of Kindness spotlight ordinary people from age nine to one hundred who have found unique ways to show compassion and make a difference. Some of these stories will warm your heart and make you laugh; others will make you smile; and a few might make you cry—in a good way—with the joy of knowing there is so much goodness and generosity in the world.
A disabled veteran in Oregon opens his front door to find that an anonymous Good Samaritan has left him a brand-new riding mower.
In Oklahoma City, a woman who has just lost her job is amazed when a stranger swoops in and pays for her groceries.
In snowy Boston, warm blankets mysteriously appear on park benches throughout the city with a note: "These blankets are not lost! If you are cold, without shelter, and looking for comfort, then they are for you. Enjoy, and know that you are loved."
From the author of the bestselling novel Good Sam (soon to be a motion picture on Netflix worldwide) and award-winning journalist Rachel Greco, these uplifting stories will fill you with hope and gratitude, restore your spirit, and give you faith in the power of kindness to transform you and the world around you.
Random Acts of Kindness is available on pre-order on Amazon and Barnes & Noble.
Comments
comments