Does true love exists or is just a Hollywood invention? Vishnu, a life coach and the author behind the popular self-growth and relationships blog Vishnu's Virtues, believes that the answer to this question is affirmative. In his ninth book, "Does True Love Exists – 15 Simple Ideas For Finding Your Life Partner," released on July 9th, the author offers a roadmap to manifesting love that lasts. Donald Trump is part of it.
If you had asked anyone, including a kindergartner, what the odds of Trump winning President would have been, they l would have laughed in your face and told you it was more likely that Santa was real then Trump being elected President. He won. He believed in himself; he was authentic and prepared.
"It is the same with relationships, says Vishnu. "You have to believe in yourself and believe that you are going to be in a relationship if you're going to be in one."
True love has nothing to do with its distorted version that marketers sell through entertainment and advertising. It goes much deeper beyond physical attraction being based on shared life goals, values, and vision, on compatibility and genuine affection. And it starts with us.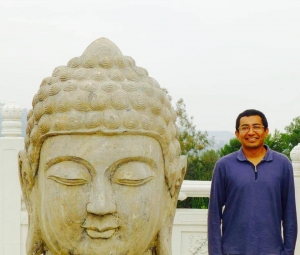 "Everything starts with shifting your inner game. This means healing emotional pain and freeing yourself of negativity, forgiving other people, listening to your intuition, cultivating joy, being grateful, being open to people and opportunities that come into your life," says the author. "True love is not exactly about finding the love of your life! It's about becoming the love of your life. If you don't feel worthy of love or don't believe in love or don't think you'll find the right person for you, you won't."
"Does True Love Exists?" is based on the author's personal experiences on his journey to finding true love after a bitter divorce from the woman he had been madly in love with. The book offers hands-on advice for navigating the challenges of finding true love, from dating apps to sex, staying away from toxic relationships, to being able to say no. Unlike other books on dating and love that tell readers to become someone they are not, this books makes a case for being 100% yourself and working on becoming the best version of yourself.
The book is available for sale on Amazon.
Vishnu is a writer, author, and blogger behind the popular personal development blog Vishnu's Virtues at www.vishnusvirtues.com. He is the author of 10 Sacred Laws of Healing a Broken Heart and Is God Listening?
In addition to writing, Vishnu is a life coach who coaches individuals who are at rock bottom – helping them comeback to find their purpose and live their best lives. Prior to writing and coaching, Vishnu was a criminal defense and immigration lawyer. Vishnu's writings have been featured on the Huffington Post, Mind Body Green and the Tiny Buddha blog.
Do you want to let people know about your new book release? Then email your press release, book cover, and headshot at contact (at) selfpublishingmastery.com. We'll publish it within 48 hours, free of charge.
Need help with writing your book press release? Then fill in this contact form. We'd love to help you!
Comments
comments