Pat's First Kindle Book (From Start To Finish) is created by the best-selling author Pat Flynn. It has over 15k members from three different continents: North America, Australia, Europe. "I created this group to organize the thoughts, ideas, and steps I take as I explore publishing my first Kindle book on Amazon. This group is for authors; writers who have self published or traditionally published a book," says the author.
Although Pat's presence in the group is limited, there is value in being part of it.The group is designed to put writers in touch with one another, to provide mutual support through discussion, tips,  and reviews of one another's work.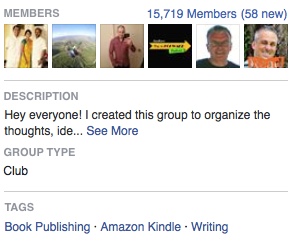 What we like most about this group is the high degree of interaction between the members and the valuable insights they share. Questions about book launch, marketing, promotion find their answers. The best covers are selected. The best services – proofreading, editing, cover design are recommended.
The high quality of the members is another of the highlights in this group. Many of them – such as the Laurence O'Bryan, Zoe McKey, Ashton Cartwright are already successful  self-published.
Joining procedure: joining is free yet since it is a closed group, you need to send a join request to be approved.
Posting policy: the posts need to comply with the general policy of the group.  They do not need admin approval. For example, you may share links to your books  AS LONG AS you also include a few tips, strategies, tools, services, etc. that have helped you along the way.
We are all here to help each other, so share your books and promos, but what else can you add that will help everyone else trying to do the same. The more you give away, the more (reviews) you'll probably get back in return.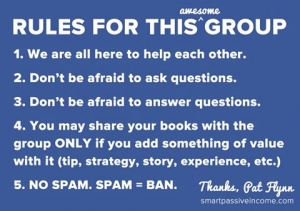 Comments
comments