Red Witch: The Tales of Ingrid Redstone by Sean Patrick Traver is now available. From the Temple Tree & Tower Series, Red Witch reflects Traver's lifelong interests in myth, magic and Los Angeles history.
Red Witch is set in 1910 Los Angeles. Actress, occultist, and bohemian adventurer, Ingrid Redstone, is in
search of a legendary Hole in the Sky said to be a portal to the Aztec afterlife. On the far side of it Ingrid meets Mictlantecuhtli, an ancient, bloodthirsty deity who becomes dangerously fascinated with the first living woman he's ever met. Their perilous relationship may have unforeseen consequences for this world and the next.
Traver explains, "Red Witch is a metaphysical adventure, a surrealist romance, and a genre-bending tour across time and memory. Fast-paced, witty, and emotionally resonant. My goal was to write books I'd love to read, rooted in the weird lore of ghosts, witches, monsters, and magicians."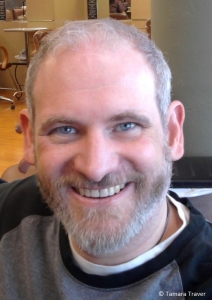 Sean Patrick Traver is a Los Angeles native, his writing explores the hidden worlds that lurk behind the sleek facade LA presents to a casual observer. Traver is a member of the LA chapter of the Horror Writers' Association and works as a bookseller at the world-famous Iliad Bookshop in North Hollywood. His books take inspiration from Anne Rice, Neil Gailman, Alan Moore, Tom Robbins, Stephen King and Elmore Leonard.
Reviews said of Travers first novel, Graves' End, "Masterfully blending the constraints of time and reality, Traver twists everything into a plot that feels both brand-new and old-fashioned in a nearly perfect blend."
Early review of Red Witch by John Palisano, Bram Stoker Award® winning author of NERVES says, "In Red Witch, travel to a world where there are portals in the sky, where heartbreak and love inspire magic, where the normal world is just a stage to another, older world of Gods and other monstrosities for those who earn the keys. As immersive as it is genuine, Red Witch takes its proper place among stories of Dark Fantasy with its compelling and unhinged imagination."
Red Witch is now available, check out the website at www.seanpatricktraver.com.
Do you want to let people know about your new book release? Then email your press release, book cover, and headshot at contact (at) selfpublishingmastery.com. We'll publish it within 48 hours, free of charge.
Need help with writing your book press release? Then fill in this contact form. We'd love to help you!
Comments
comments