Self-Publishing Mastery is proud to announce the Brown Cup Expression Sessions, Vol.1, the first one in a new series of live author events that give writers an additional opportunity to connect with their readers and network with their peers. Designed and hosted by Robert Yehling, award-winning author and book editor and also creative director of Self-Publishing Mastery, the happening will take place on June 112th, at the Brown Cup Caffee in Oceanside, Southern  California.
Brown Cup Expression Sessions is a monthly event that will occur the second Tuesday of every month. We will feature authors, poets and musicians, against a backdrop of art, music — and Brown Cup's great coffee and tea beverages and food! Every session includes Open Mic readings – so bring your work!
The June event lines up  Robert Yehling – author of Voices & Just Add Water, Winner of the Independent Publishers Book Award and  Eric Munoz – author of Caulerpa Conquest, a#1 Amazon Environmental Biography and Winner of the 2017-18 Green Book Award.  Greg Gutierrez, artist and author of Zen in the Art of Surfing  and Mammoth Mountain, will make a special guest appearance. The participants are in for an evening of reads and talks about surfing, ocean, and environment.
Doors open at 6.30 pm. For more info about the event, click here.
Co-producer: Word Journeys.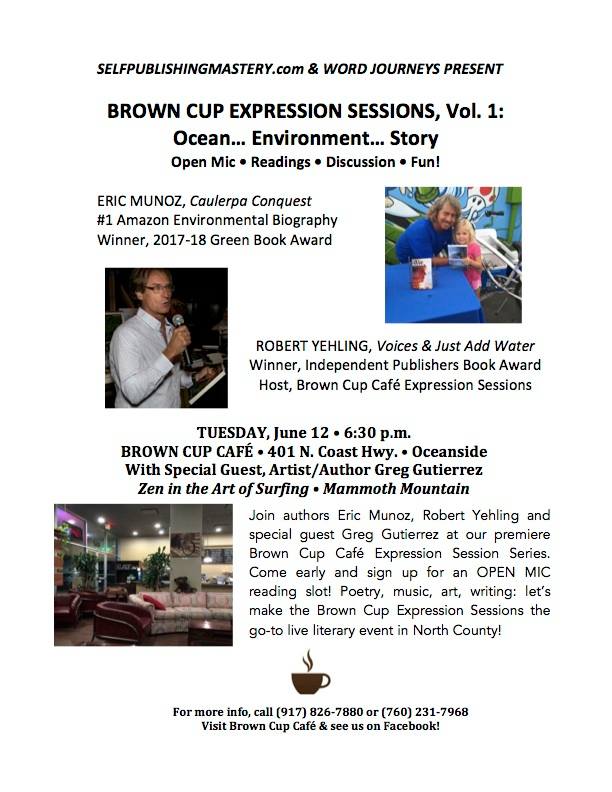 Featured picture by Scott Webb.
Comments
comments