Whether you are an aspiring or established author, The Greater Los Angeles Writers Conference 2017 is not to be missed. The event takes place June 16-18 and boasts a packed schedule that won't give you time to breathe.  But hey, who needs that? You want to be successful, right?
The Greater Los Angeles Writers Conference uniquely offers topics on separate tracks for Aspiring, Active and Accomplished writers in an inspirational and educational, progressive streams of learning. There are also important topics for Screenwriters of all levels. You may jump from one track to another at any time, or over a period of days, experience as many as you can at your choice.
Learn the craft and build your platform
The seminars cover a variety of topics on the writing craft and book marketing. "Plotting with Your Pants down," "Creating Strong Openings," "The Secrets of Show Don't Tell," "The Challenge of Writing A Series," "Using Social Media to Promote Your Platform And Books," and "Building a Solid Platform as an Author" captured our attention. If you decide to attend the conference, you'd better finish writing your book by June.
Free 1-on-1 pitch sessions with literary agents, editors, and publishers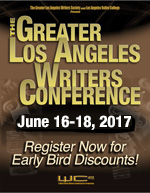 As an attendee, you have the amazing opportunity to pitch it to top literary agents and publishers looking for new talent with polished manuscripts.  Last year,  one agent signed an author and landed her a three-book deal with a major publisher! Everything is possible when you have talent and dream big.  You can also meet and network in person with literary agents, professional editors, and industry professionals, who can guide you on the path to success.
Choose What Best Fits Your Needs
The Gold Package includes three days of workshops, lectures, free 1-on-1 pitch sessions with literary agents, editors and publishers, a swag bag, a Guaranteed Masters ProCritique Advanced Submission with attending literary agent of your choice, and much more.  Most packages include two Keynote Address light luncheons. All include admission to the "Gathering of Writers" no-host cocktail party on Friday and dinner on Saturday.
You can check all the available packages here.
If you attended the conference before, please share your experience in a comment bellow.
Comments
comments