Writing an engaging story can seem a daunting task. Yet, it is far from being mission impossible if you learn how to do it properly. Pamela Jaye Smith will share how she does it on March 17th, at a special speaker event  hosted by the Greater Los Angeles Writers Society.
Who doesn't love the Dark Side? Darth Vader, Cruella De Ville, Tony Soprano – everyone loves a great villain.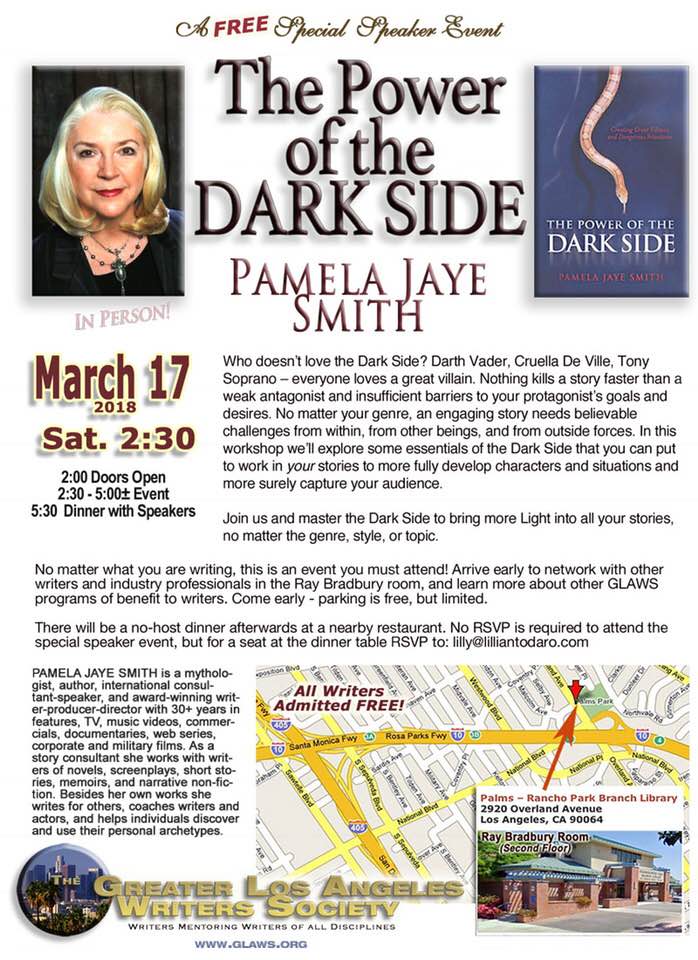 Nothing kills a story faster than a weak antagonist and insufficient barriers to your protagonist's goals and desires. No matter your genre, an engaging story needs believable challenges from within, from other beings, and from outside forces. In this workshop we'll explore some essentials of the Dark Side that you can put to work in your stories to more fully develop characters and situations and more surely capture your audience.
Join Pamela Jaye Smith and master the Dark Side to bring more Light into all your stories, no matter the genre, style, or topic.
Pamela Jaye Smith is an author, international consultant/speaker, and award-winning producer/director with over thirty years experience in features, TV, music videos, commercials, documentaries, corporate, and military films, and web series.
The Special Speaker Events (SSE) presented by the Greater Los Angeles Writers Society offer a wealth of educators, nationally-known authorities, industry experts, agents, publishers and famous authors. It is a terrific opportunity to learn about the craft and business of writing from the best voices of the day. While GLAWS sometimes focuses on specific genres, most topics are broad-based and provide valuable information for all writers.
GLAWS welcomes writers of all genres of writing and levels of expertise. They also welcome those who support the writing community whether you're an industry professional or fan of writing. Admission at the library is always free. However, non-members, need to  register/check-in at the door to receive a guest badge.
The event will take place at Palms-Rancho Park Library Ray Bradbury Room 2920 Overland Ave., Los Angeles, CA 900644, starting 2.30pm.
Make sure you don't miss one of the most sought-after writer events in Southern California this March.
Comments
comments