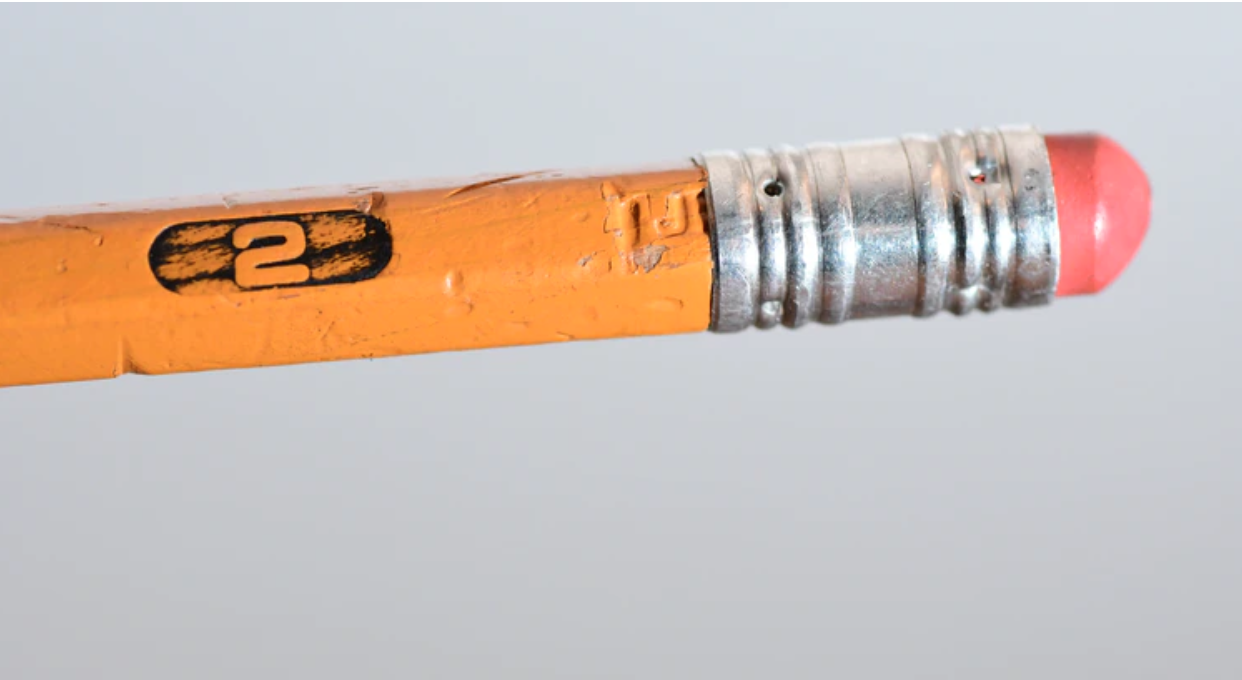 5 EDITING TOOLS FOR WRITERS, EXPLAINED
Editing your work can be a bit of a drag unless you use software solutions. These 5 editing tools for writers will make editing your manuscripts easier than ever before. 
Now, none of these 5 editing tools for writers will do the same job as a professional editor, but they're a great start. You can use in your daily life or when editing your manuscript. These tools are great time-savers for authors who have a lot on their plates… which is most of us. 
1. Grammarly
There are plenty of tools we'll look at today, but the most famous one is Grammarly, which has over ten million users around the world.
Over the last year, Grammarly has added a cool goal-setting tool. Now, when you start a new document, you'll be able to set goals and Grammarly will adjust suggestions to match. Depending on the book you write, this is a big win.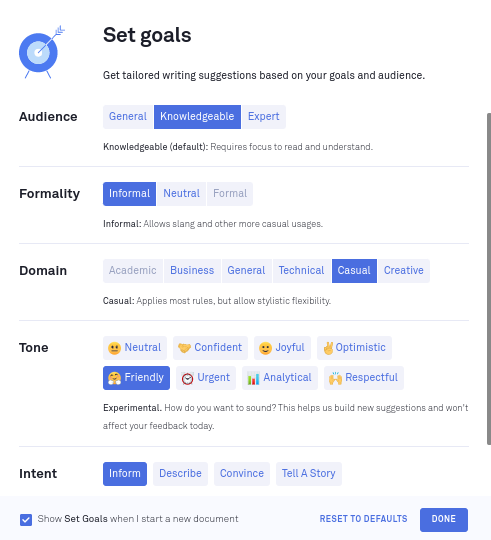 One negative about the goal setting is that it's only available when you use the Grammarly web app. If you already like to write on another platform, then you'd be reliant on Grammarly's integrations. 
Grammarly works with Microsoft Word and there is a very basic BETA version of a Google Docs add-on which is only a slightly improved spelling and grammar checker.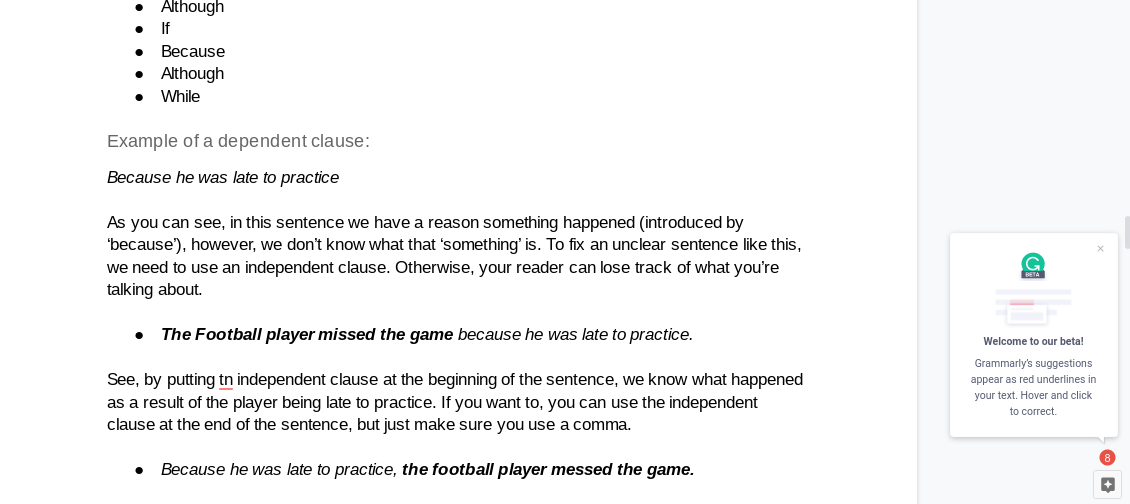 Ultimately, Grammarly doesn't get over 10 million users by targeting indie authors. Instead, Grammarly is more of a general tool that anyone can use to fix up emails or use for general computer-based tasks. 
If you only want something to check spelling mistakes and give you grammar suggestions every day, then Grammarly is a good choice. However, if you want a tool that'll improve your manuscript, then there are other choices on the list better suited. Grammarly is also the most expensive option we'll look at today. They offer three pricing plans. 
Monthly – $29.95 per month
Quarterly – $19.98 per month
Annually – $11.66 per month
Grammarly Pros:
Easy to use
Set writing goals in the web editor
Always adding new features
Grammarly Cons:
Limited Google Docs add-on
Price can be considered expensive
Doesn't do enough for fiction writers–made for 'everyday' computer users more than authors
2. Ginger
Ginger is similar to Grammarly as it's an everyday tool great for the general internet user but not specifically designed for authors. It offers a bunch of the same features but also has a few that Grammarly doesn't:
A "personal trainer," that will help build your skills through a series of different writing lessons. Ginger customizes each lesson to work on the mistakes you commonly make while using the tool, which is cool. 
A text-to-speech app that reads your work out loud.
A translator that could be great. Although, from what I can see, the translator offers nothing better than what you'd get from Google Translate. Still… pretty cool. 
Ginger doesn't have its own online editor like other options on this list, guiding you to use the Chrome add-on or the desktop version.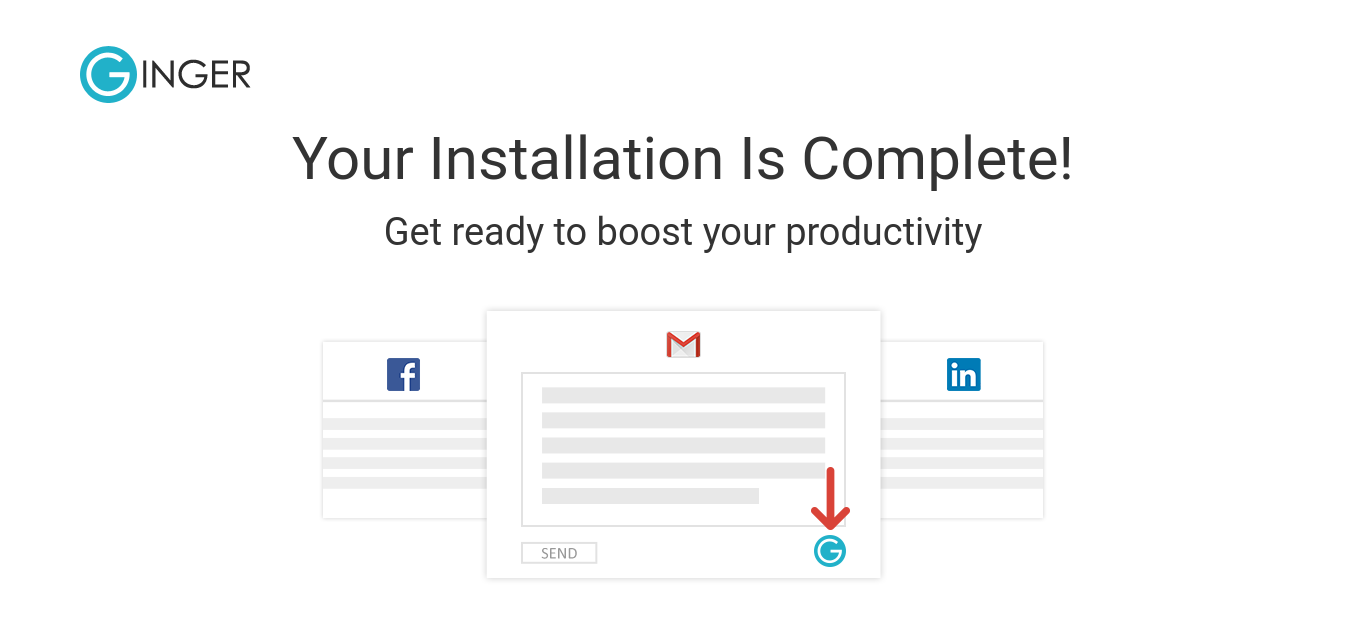 Having used both Grammarly and Ginger before, Grammarly does a better job at the day-to-day editing and gives much more accurate results. However, the price point for Ginger is far more reasonable, with a two-year plan that usually comes at $9.99 (in the image below, there's a 30% promo running, but that may be different when you visit Ginger). So, you could buy two years worth of Ginger subscriptions for around the same price as a year of Grammarly.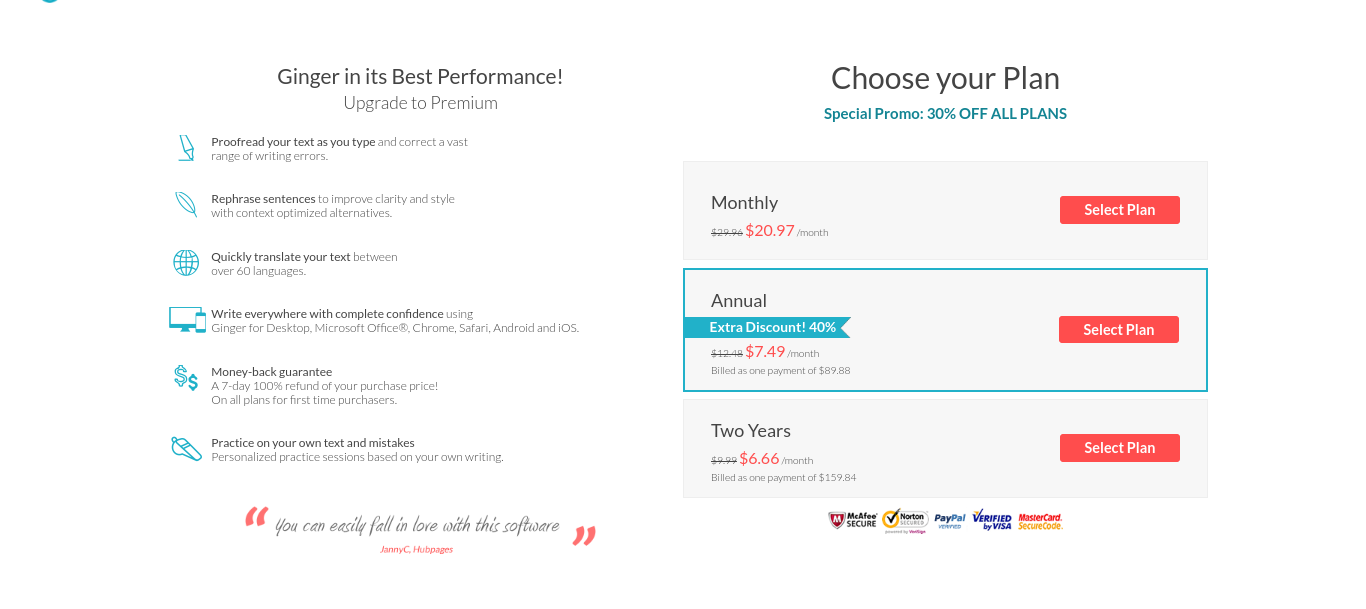 Ginger Pros:
Will catch basic spelling and grammar errors
Complete a series of lessons to help your writing
Ginger Cons:
Again, being a basic editing tool, Ginger doesn't really offer much use for authors–especially fiction authors.
3. Hemingway Editor
The Hemingway Editor is something a little different compared to the other solutions we will look at. While Ginger and Grammarly improve your writing by fixing grammar and spelling, Hemmingway will improve your writing by getting rid of adverbs and pointing out any hard-to-read sentences in your work.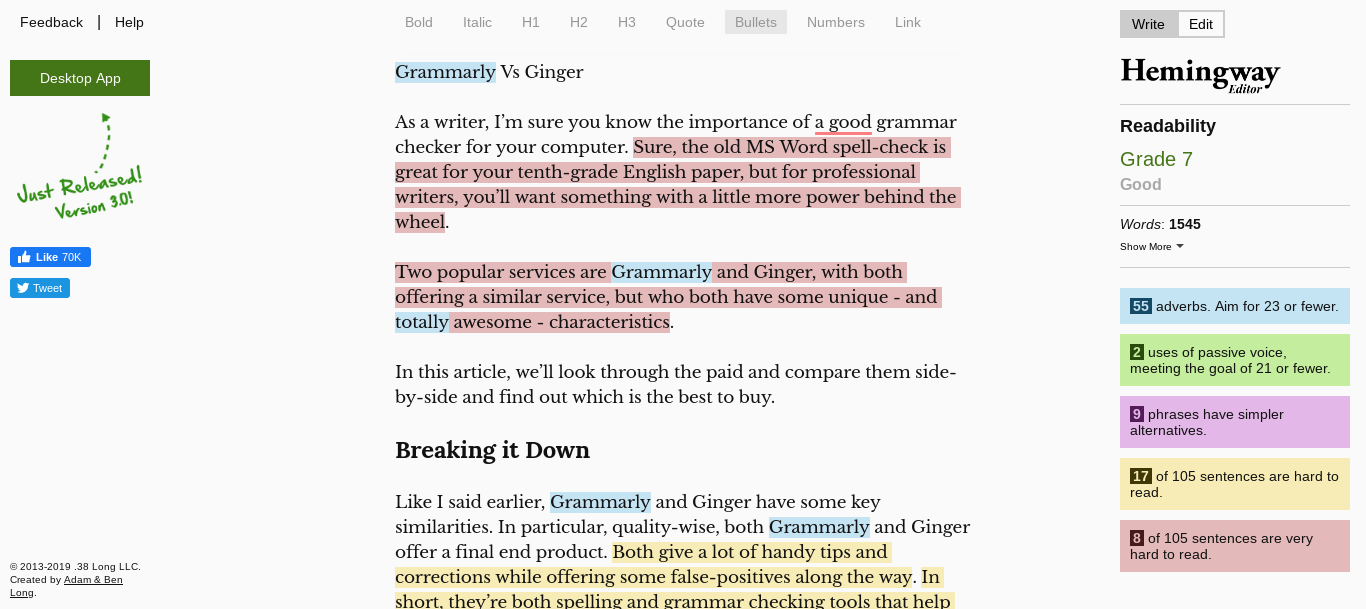 As you can see in the image above, Hemmingway uses color highlights to suggest edits that'll improve your work.
Yellow Highlights: hard to read sentences
Red Highlights:'very hard to read sentences or paragraphs
Purple Highlights: Use of complex or unnecessary words 
Blue Highlights: Weak phrasing, for example, using 'could' instead of 'must.'
Green Highlights: These show the use of passive voice. 
You can use the free editor online, or pay for the app on your computer for a one time payment of around $20. So, for the price, Hemmingway does a decent job. 
Hemingway Pros:
A great free offer and a low one-time cost.
Improve your writing with advice on core writing techniques like avoiding adverbs and hard-to-read sentences.
Hemingway Cons:
No spelling or grammar suggestions.
Could use a chrome extension so you can edit work anywhere.
4. Natural Reader
One of the best ways to edit your manuscript is to read your work out aloud. By reading your work out loud, you'll be able to spot errors. And since there's an app for everything nowadays, reading out loud is no exception. 
Natural Reader is a free text-to-speech tool that has two main uses.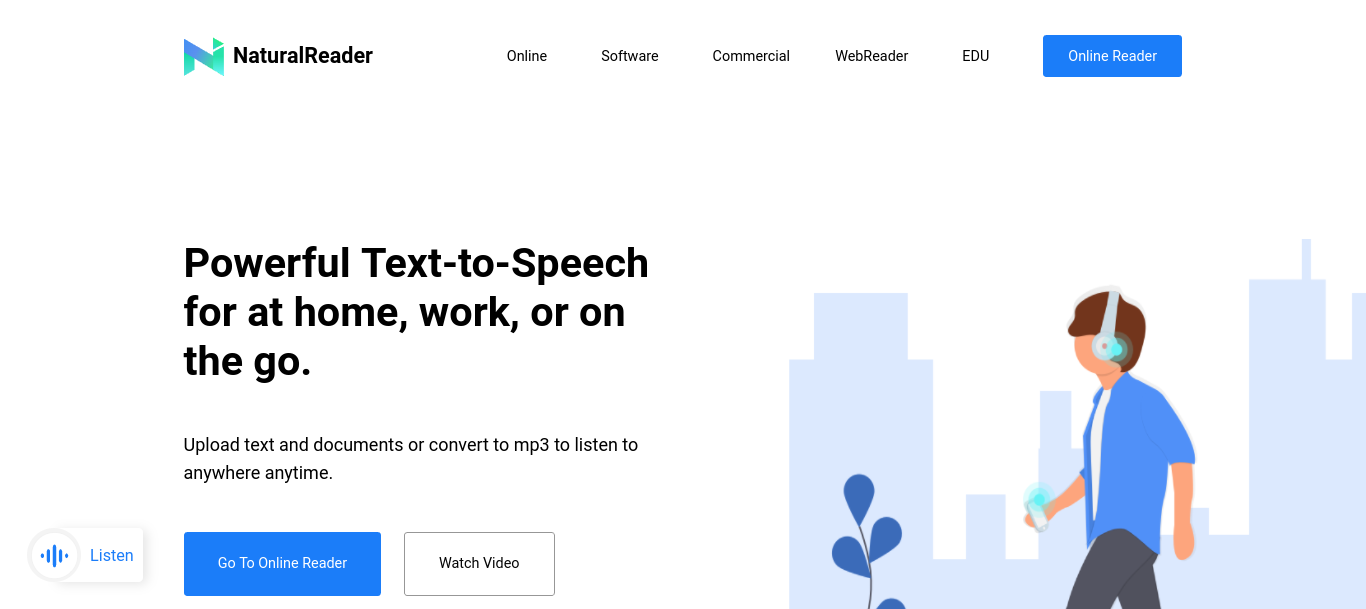 You can load whole documents or copy and paste snippets into the library and have the tool read them back to you. You can use a bunch of different file-types including eBook formats.
You can also use a floating toolbar that'll let you highlight text online and it'll read the text back to you.
As for price, there's a decent free version and reasonably priced premium options.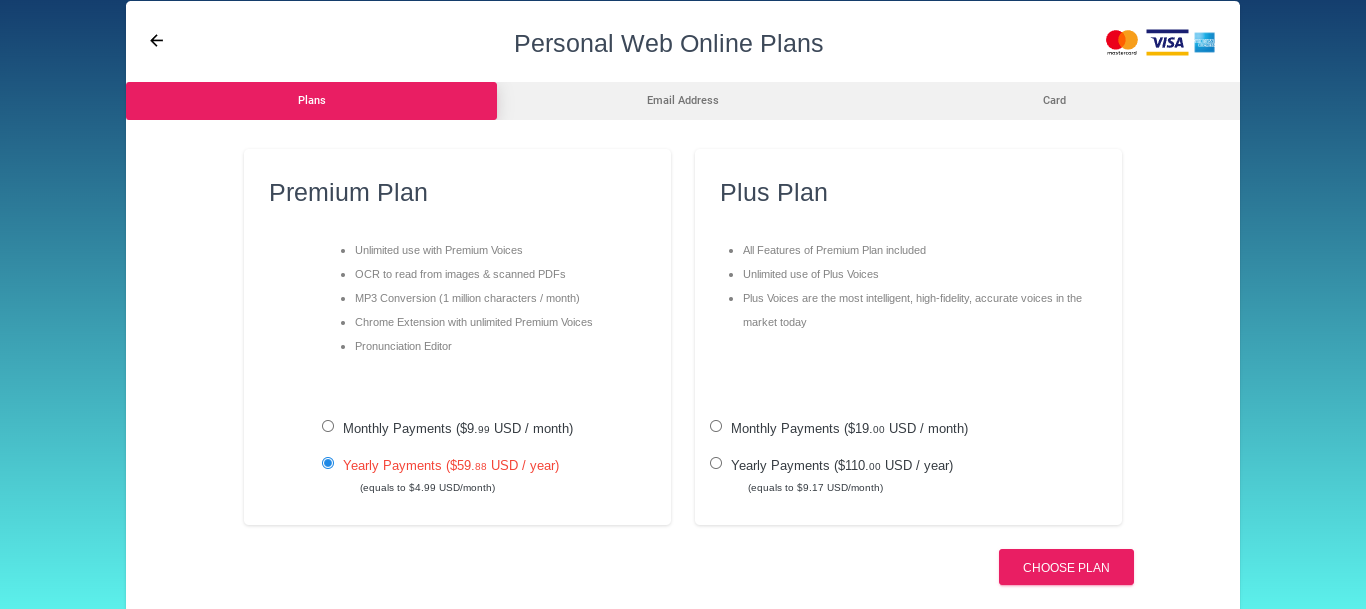 Natural Reader Pros
Have your work read back to you so you can hear what it sounds like.
Decent price and a good free version.
Natural Reader Cons
Obviously this isn't a tool for writers, so this only works if you're already the type who edits their work by reading it aloud.
5. ProWritingAid 
ProWritingAid is a tool made by authors for authors. As you can see in this full review, there are a bunch of different edits and checks you can do to your work, ranging from readability to sticky sentences.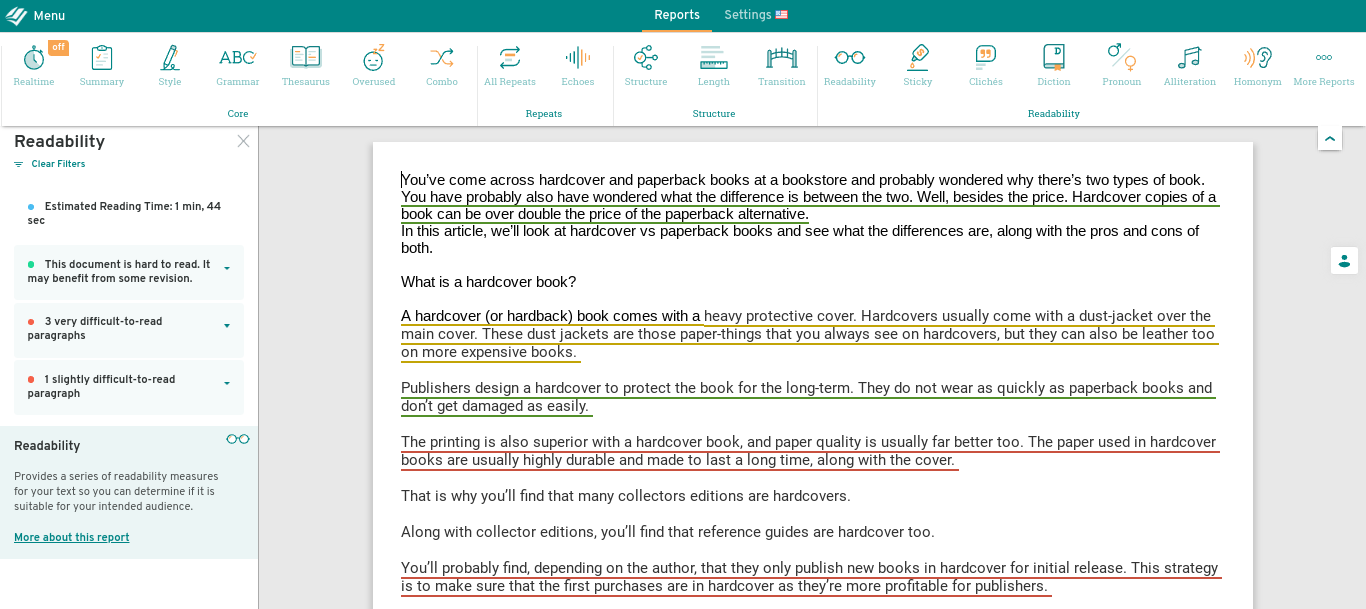 Because they made the tool for authors, special consideration has been given to integrations. There's a Google Docs add-on that overlays the ProWritingAid editor on your document, allowing you to make changes. While the Google Doc add-on can be buggy, it is definitely better than other tools mentioned here. 
One feature that will endear ProWritingAid to authors is the tool's integration with Scrivener. If you're one of the many authors who use Scrivener to write their books, you can use ProWritingAid to turn your favorite laptop computer into a swiss army knife for writing and editing.
ProWritingAid has a range of pricing options, but the best value for money is the lifetime plan for only $240. You'll struggle to find better value anywhere.
ProWritingAid Pros:
Made for authors.
Compatible with Scrivener.
Well priced.
A versatile editing tool. 
ProWritingAid Cons:
The Google Doc add-on can be buggy at times.
Takes longer to get used to than other tools.
The browser extension is only for Chrome.
Final Thoughts
As a whole, each one of these tools does a great job for their customers and each will help you along the way in editing your manuscript.
As an author, you'll need a tool that will do more than basic spelling and grammar. ProWritingAid is by far the best tool you can use to edit your manuscript. 
The best thing about trying software solutions like this is they usually all offer a free version or a free trial, so you can try them and see which tool you'll get the most use from. 
Cheers!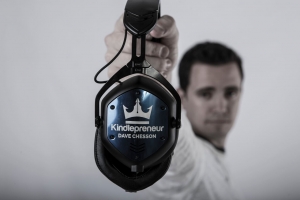 About the author: This is a guest post by Dave Chesson. He  teaches authors advanced book marketing tactics at Kindlepreneur.com. His most recent project is the Book Marketing Show, Dave's contribution to the world of publishing podcasts. He is also the creator of the leading Kindle research and advertising software, KDP Rocket.