AUDIO PODCASTING FOR AUTHORS: Income streams and production tools
PART 2: INCOME STREAMS AND PRODUCTION TOOLS
Although some people say that Facebook Live will replace Podcasts, we believe that podcasting is here to stay. A 2016 study performed in the US showed that the percentage of Americans who listened to a podcast in the last month almost doubled.
Follow the guidelines presented in this article (as well as in the first part) and you will be able to create a compelling podcast, which will attract more readers and book sales.
WHY SHOUD I MAKE A PODCAST?
As we've mentioned in our previous post, podcasting is a great way to get more readers and generate book sales. Here are a few extra reasons to make a podcast:
You have control over your material. If for any reasons iTunes stops working or starts charging for listing it, you can always upload it as an audio file on your website.
You can produce elaborate episodes, similar to radio shows
You can forget about your hair, make-up, clothing. All you need is a good voice and proper pace.
There is magic in the human voice.
People can download the podcasts on their devices and listen to them anytime and everywhere.
If you do it yourself, the production costs are low. You can upload the audio content on your own website or use one of Apple Podcast Hosting Partners.
It is a proven revenue stream.
HOW CAN I MONETIZE MY PODCAST?
There are three main income streams: advertising, paid content – special announcement, paid interviews, and crowdfunding.
In 2016, podcasts are a popular avenue for brands to build thought leadership. Marketers are interested in creating content that addresses the user's intended question or associate their brands with this kind of podcasts.
Websites such as Patreon, IndieGogo, and KickStarter allow your fans for support. In 2012, Amanda Palmer (Neil Gaiman's wife and an indie musician) rose over 1million USD during a one-month campaign for a new recording.
Popular podcasts may have a special short section for paid announcements or even include paid interviews. Joanna Penn, who is doing one of the first podcasts on self-publishing, is currently making over 400 USD per show from 205 patrons on Patreon.
Unless you already have a huge following bear in mind that building an audience takes time and consistency. You might need six to twelve months to cash in.
You can learn how to monetize your podcast from this great value Master Class In Creating Podcasts That Sell Books now available at a low price with an 84% discount! To see the details, click here.
THE PRODUCTION TOOLS
The voice-recording device
Foregone are the days when you needed a special device to record an audio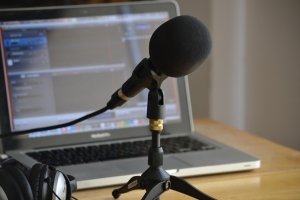 interview. Today, you can produce good quality voice recordings with your smart-phone. The quality of the Voice Memo App on the iPhone is good enough to be used for a podcast. You can use it for recording interviews or your voice – for a monolog type of podcast.
If your budget allows it, buy a professional microphone that you can plug into your computer. The offer on Amazon.com is vast, with prices ranging from 15.99 USD to 128 USD for entry-level products. Choose a unidirectional one.
Tip: make sure you avoid recording in an empty or big room. You will get an echo and need a professional to eliminate it. Avoid using your laptop's microphone.
The editing program
I remember being interviewed once for a podcast. Everything was professional, except for the editing. The editing program is essential for making a professional podcast. It helps clear the slips, the "huhs" and "hums," the repetitive ideas. It cut offs the unnecessary words or pauses.
It is also mandatory for putting together all the pieces of the podcast, for levelling the sound so that it stays consistent during the whole episode. You need to make sure that the voice and the message are crystal clear so that the listener can enjoy the content.
The editing program allows you to add music and other sounds, making it more dynamic and catchy.
Editing your podcast can be a lot of fun. If you ever fancied being a DJ or a radio host, a podcast is the right environment to try it.
Audacity works perfectly for Mac and Windows. It is easy to install and use. Plus, you can download it for free.
Skype calls recorder
If you are conducting the interviews on Skype, you will need an app to record them. Piezo is a simple and cheap one we recommend to Mac users. You can access the free version for calls up to 10 minutes. Piezo will save the file as an mp3 format. The cost of a life time license for a single user on one or more machines is 19 USD.
The MP3 Skype Recorder works well with all Windows systems and is free. It offers manual or automatic recording capabilities. The stored files are converted to MP3 files. 
Sound & effects data basis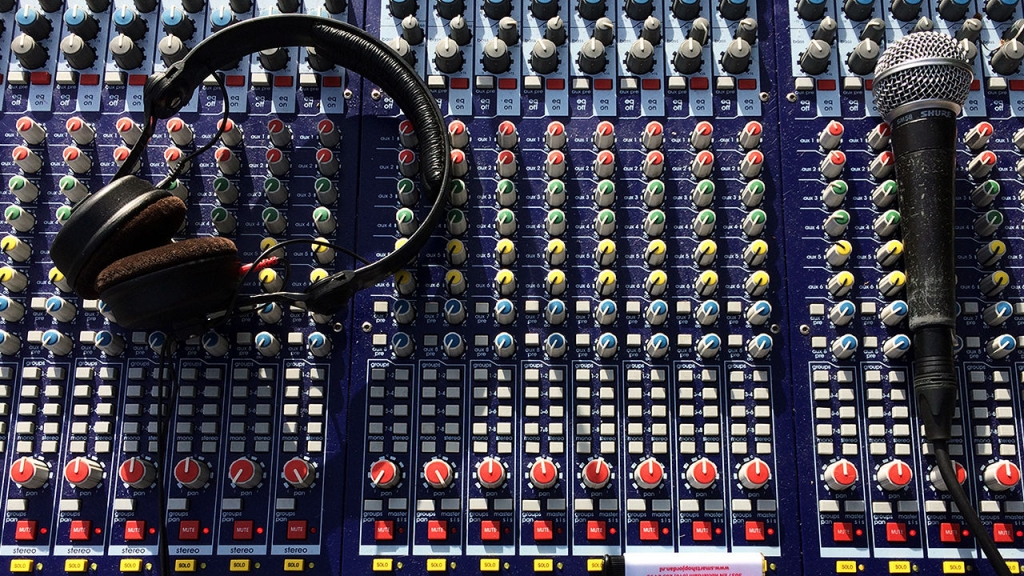 A podcast episode is very similar to a radio show. Think about your favorite one. You will notice that it includes other elements besides the voice. Radio hosts usually use a music background – the music that plays softly while they speak. The show is fragmented by jingles – a short tune that promotes a feature. It also has a power intro – which announces the name and the theme of the show.
Jingle and power intros packages are usually expensive so you might want to try to create those yourself. Make sure to use sounds that are copyright free.
Choose a music theme and use it in every episode. It will give your podcast a distinct identity, making it recognizable from the very first seconds. If you have a friend who is a composer, you can ask for help with the theme. Perhaps they can come up with something original and use a bit of promotion among your followers.
Free Sound is a great free resource for sound effects.
Need some help to get started?
The creation of a professional podcast is a complex task. Not everybody is tech-savvy and not everyone can easily pick the best niche. Sometimes a birds' view from outside can help, especially when you start off.
Plus you want all the benefits a podcast can bring you but not miss out on your writing!
You can work with A.G. Billig one -to-one or enroll in her MASTER CLASS IN CREATING PODCASTS THAT SELL BOOKS online course. Now available at a low price with an 84% discount! To see the details, click here.
A.G. Billig can help you create your podcast from scratch. She has +6 year experience as a radio host and producer. She is also the co-host and producer of booksgosocial.com podcast, The Seductive Writers' Diary – 21st Century Digital Marketing Techniques For Bestselling Authors
Her special offer, valid for limited time, for the first five people who will redeem it, includes:
Helping you pick the niche and the title for your podcast.
Creating the artwork and the blurb
Podcast audio package (jingles, opening theme)
Editing of two episodes (at a maximum length of 20 minutes each)
For a special price of 99USD *
To redeem this offer, please use the contact form in our about us page using the subject "podcasting."