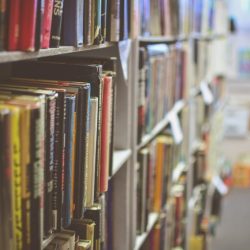 BEHIND THE SCENES OF A BOOK BLOG: AN INTERVIEW WITH SHERRY TERRY
We want them. We need them. We even enroll in KDP Select and offer our book for free to get as many as possible. Bottom line, we all  hope and pray for book reviews same way people in Southern California do for a crash-free 405 freeway at rush hour. In this interview, Sherry Terry, romance author, editor, and book reviewer takes you on a tour behind the scenes of the popular blogs Very Sherry Terry and The Naked Reviewers.
You are an author and book critic. What prompted you to start a book blog?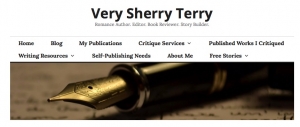 I have two book blogs. The first one I created about three years ago is Very Sherry Terry.  I actually started it because I had gotten into a debate about overusing certain words in fiction writing. I wanted a place to safely talk about my theory on weak word choices and how they affect the entire story. I started the blog with one article, Strong Writing Made Easier, and it went from there. My goal with the blog is to help writers be successful. I have great research links on just about every topic imaginable with how-to articles on author branding, marketing, and publishing.
My second blog that is less than a year-old is a book reviewing site. I have a small group of friends who have joined me, and we do free book reviews. All genres are welcome, and we vet every book, so our followers are only shown the best. This one is called, The Naked Reviewers.
Let's talk about The Naked Reviewers. That's a bold name. How did you come up with it?
Oh, wow. Thank you. I cannot tell a lie. For The Naked Reviewers, a friend, Alex Maher was helping me with some marketing promotions for me to do some book reviews, and he threw down, The Naked Reviewers – where authors expose themselves to book reviews. I cradled that in my arms and ran all the way home with it.
You mention you will review anything well-written. What are the critical elements of a well-written book?
I hate to keep harping on my "weaker word" war, but I honestly believe that getting rid of as many weaker words as you can, forces you to be more creative, which makes the whole story more creative; thus the story is stronger. In my world, this one thing helps fix all the problems with most books except the plot. When you write stronger sentences, without passive, filtering, redundant words – the story will sell better and be remembered. This also forces the writer to better flesh out their characters, setting, and dialog.
So basically, if I see a lot of weak wording on the first page, I'm pretty much moving to the next book. It's hard to explain my theory here, it's too long. Instead, I would love to share the article link.
Why do you accept only books you feel you can give at least four stars?
Thank you for asking this question. I feel it's so important to answer. There are a couple of reasons we only take books we think we can give at least 4-stars. We do not guarantee any author will get 4-stars. I've been editing and helping authors for over 10 years, and I know from first-hand experience that there are a lot of authors who will just get the first three or four chapters and their blurb edited professionally, and the book falls apart to turn into a 1-star story.



The biggest reason we only take 4-star books is that we do not need the backlash that giving someone a 2-star review can bring down upon us. We all feel our books are our babies. Most authors want to learn and become better when given a chance, but some cannot handle criticism of any kind. Cyberstalking and trolling are real, and I need to protect my reviewers.
The second reason we do this is to showcase the great indie authors and self-published books. Self-publishing gets a bad wrap because there is so much crap out there. We want to showcase the best so the book will rise to the top where it belongs.
What do you enjoy most in the process of reviewing a book?
Helping an author rise in the ranks so their work will get more attention.
How do you pick "The Book of the Month"?
We vote. We take the books that get the most attention, be it likes, reviews in the comments, shares, traffic, and clicks on Amazon. And we talk about what we liked about the book. Even when it looks like a book only got two reviews, it might be getting a lot of behind the scenes action.
Article featured image by Jamie Howard Taylor