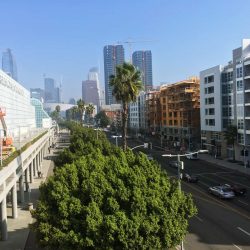 LESSONS LEARNED AT STAN LEE'S LA COMIC CON
Never, ever, before did the LA Convention Center saw as many super-heroes per square meter as during Stan Lee's LA Comic Con, October 27-29. Wonder Woman, Superman, Batman, Jedis, Iron Man, and other comic books superheroes took over the first floor. And so did authors, both self and traditionally published, for whom  this convention was a great opportunity to promote their books and engage with a new audience. Vanta M. Black, Susan Lee, Sean Patrick Traver, and Valinda Rothman are the writers who caught our eye. We sit and talked about the opportunities, challenges and lessons they learned at LA Comic Con 2017.
FIND NEW READERS

"I had a great time at the LA ComicCon. Sold a lot of books to new readers, and more than a few to returning readers who were looking for my new titles," says Sean Patrick Traver who recently launched
Red Witch
, event which we covered in a previous
article.
 The author's book publicist,  Desiree Duffy, founder of
Black Chateau Enterprises
,  organized a successful book signing during the second day of the event. Not few were those who stopped by to get a signed copy of their favorite book.  A book signing is a great idea as long as you make sure you advertise it properly. A poster at your booth announcing the book signing, posts on your social media channels, and distributing flyers on the premises are some of the actions you could take."For me as an author it's an important show because it's here in my hometown, for one thing, which is also the setting of my work. My plots can veer toward a graphic-novel-like sensibility, and I find a receptive, open minded audience looking to embrace unusual work at this show every year," says Sean Patrick Traver.
"What I enjoyed best at the LA Convention Comikaze was the fact that they had a better quality of guest coming to the Con and that resulted in a bigger population of people being attracted to comikaze this year. It also was exciting to have customers come back who love the book and wanted to get books 2 and 3 and also several people wanted to get new puppets," says Valinda Rothman, founder of   
ValStar Publishing
.  "Michael Mayo the author was there to sign books. I also liked the variety of vendors that were at Comikaze this year a lot more books were being represented and a lot of different types of vendors such as T-mobile, free coffee lattes offered."
 Going to an event such as Comic Con as an exhibitor can serve you in various ways. It is not just about the sales, but also about PR. You can take pictures of you and your books and use them on your social media channels, connect with other artists and maybe get interviewed.
"It is important to promote our books and our cause, contributing to animal rescues through the sale of the books and puppets
Book one, Alex Walker and The Circus of Secrets
won the best fiction book of the year award. We also showed a photo of the mustang that we rescued and was able to find a forever home for him," explains Valinda Rothman
PRACTICE WHAT YOU LEARN
No matter how many books you read and book marketing workshops you attend nothing can teach you as much as rolling up your sleeves and jumping into action. It is the same as ballroom dancing. You need to get on the floor and just dance. Getting early to the venue, before the crowd starts to pour in, to have the time for set up is something you may take for granted until faced with the situation.
"As hard as it is to get up at 4:30 in the morning we know from past experience that you have to get there very early to get Freeman to help off load quickly and efficiently," admits Valinda Rothman. "The most important lessons I've learned about selling books at the Con? Stand up, greet people, and interact. It helps to have a concise 'elevator-style' pitch to hook their interest. Boiling a 300+ page book down to one sentence isn't the easiest thing in the world, but readers seem reassured when I know what my own stories are about!" says Sean Patrick Traver.
GET OUT OF YOUR CONFORT ZONE
Comic Cons are a great place to connect with new readers. "The best thing about conventions is meeting new people and inviting them to discover your work. The best thing was my panel – "Women on the Dark Side". I created this panel so that my voice, which tends to come from a darker, more twisted side, could be heard, but I'm discovering there are so many women and men out there that want to be heard as well. It fills my soul to connect with the people who attended the panel and got something out of it," confesses author Susan Lee, comic book creator and novelist.
"I think it's important to be at conventions and events so you can introduce people to your work directly. It's hard to reach people through websites and Amazon, but if they're right in front of you, you can engage and discuss and leave that person with a real experience. Conventions and events build my fanbase and also let me find out what people like and don't like, helping me to refine my marketing and my process," says Susan Lee. "Someone once asked me what to do if you hit a place in a story that scares you. My response was, Then write it. You have to be willing to dig into the scary places and push past them in order to be an authentic writer. If you're scared that people won't read it, then write it anyway. If you're scared that you're not experienced enough or mature enough as a writer to write it, write it anyway. You will grow. If you're scared just because you're writing about the deep, dark scary inside of you, then definitely write it because that is the truth that lives within you."
WEAR COMFORTABLE SHOES
As crazy or vain this may seam, it is important that you feel good at any event. You want to feel relaxed and in a good mood so that you can greet everybody with a contagious smile instead of a frown. For Vanta M. Black, author of Oubliette, comfortable shoes are one of her secret tricks that make conventions a success for her.  Add to that her genuine interest in meeting people.
"LA Comic-Con was fantastic. It is a great way to connect with readers and fans of pop culture. This year was even bigger than last. It is fun to watch this convention grow. I enjoyed meeting so many people who like to have fun. The cosplayers are always fantastic and it is energizing to be in this community," says Vanta M. Black. "I enjoy being able to meet people and tell them about my book. As an author of a thriller/horror novel, being at LA Comic-Con means I can connect with people who enjoy genre fiction."
We would like to thank Desiree Duffy, founder of Black Chateau Enterprieses and Publicist of the Year 2017 in Southern California, for facilitating our team access to this event.