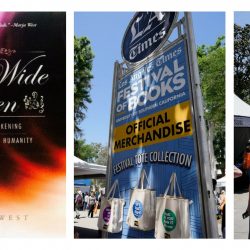 HOW EFFICIENT ARE BOOK SIGNINGS AT BOOK FAIRS?
With over 150.000 visitors and an impressive line-up of authors, celebrities, musicians, and artists, the 22nd annual Los Angeles Times Festival of Books was on our must-attend events list. We focused our attention on how the indie authors (fiction and non-fiction),  small presses, and writers' associations used this high-profile opportunity to market themselves. We also aimed at finding out how efficient are book signings at book fairs, and if it's worth putting your money and energy into it.
Today meet Marja West, author of F'd Wide Open: The Rude Awakening of the Heart-Based New Humanity.  Marja is an author, non-guru lineage spiritual teacher, Way-Show-er, and Divine Love Agent Provocateur. 
What prompted you to do a book signing at the LA Book Festival?
This was my third promotional book signing. My participation was prompted through my previous book signings at Toronto's Word on the Street and the Miami Book Fair International. Also, my marketing team with iUniverse wanted to assist me in getting my book out to the public and give the public a chance to meet me, and for me to meet my potential readership.
As an unknown new writer, I felt the desire to allow to receive more assistance in the marketing arena as this is not my expertise. My iUniverse team takes care of all the details: setting up the booths and table, doing all the heavy lifting of packing up and shipping my books to the events. All I have to do is take care of my travel plans and arrangements and show up with a smile and be myself and meet and greet all the beautiful people who feel drawn to receive my book baby.
What results din you get from your participation?

I got to meet hundreds of people and connect with their hearts. I invited them to join my email list and receive my FREE online trainings to help further their inspiration to live the life they truly desire. I love feeling their enthusiasm and openness to receive and play with their curiosity.
I also get to meet delightful people like yourself, who are also writers, who have the desire to help and share their experiences and their insights and resources with writers like myself. Such loving kindness and generosity is so uplifting and makes my heart sing.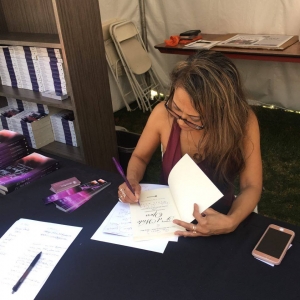 What lessons did you learn?
I get to learn how to pronounce so many beautiful and unusual names.
I always learn to go with the flow and Trust the Process of the natural unfoldment of every moment. I learn to follow what feels good and that always works!
I get to put into practice the Feminine and Masculine Principles of Receiving and Giving/Gifting whilst knowing that the Universe has my back. Divine Timing always prevails with delight!!
Every book signing tour shows me how awesome the Universe is at orchestrating all the cooperative components that help me get my work out into the world to my true audience, and allow me to flow through airports and taxis and kismet meetings.
What were the highs of your presence at the LA Book Festival?
It's such a high to be amidst so much creative energy and so many wonderful people. I love interacting and engaging and having amazing conversations with everyone I meet. People are so open and kind and even the folks who seem shy at first, open up, and so want to be seen and acknowledged and I love those moments, especially, when That Shine comes through in their eyes.