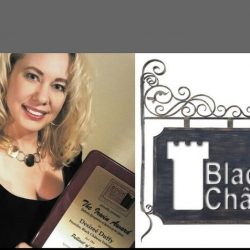 YOU NEED TO INVEST IN BOOK MARKETING
In today's crowded market, authors need book publicists like fresh air. In this interview, Desirée Duffy, founder of  Black Chateau Enterprises and recipient of  the Irwin Award for the Publicist of the Year 2017  in Southern California, talks about her passion for helping authors succeed, and provides hands-on insights on how you can work best with a book publicist, and what are the alternatives for tight budgets.
Why are you so passionate about PR?
Every author not only has a story to tell in the form of their writing, but they have a personal story as well. I look for that "story behind the story" in all of Black Chateau's clients. That's what makes an interview or article great, and fun to book.
I love the process of bringing an author's journeys to light. Why did she write her book? What inspired his writing? What expertise can this author bring to a conversation? What thoughts does she or he have on topics that shape our world? Getting all those stories told is very fulfilling.
What made you decide to use your amazing skills and expertise to help authors?
We live in a world where expression is in jeopardy. Books still get banned. Young women who read are targets for terrorists. Freedom of the press is threatened by world leaders. I want to help authors get their stories heard because our right to free speech is an intrinsic, human right. I am proud that Black Chateau is doing what it can to support the voices of storytellers everywhere.
When is the right time for an author to hire a book publicist?
It varies depending on the author's goals and what needs to be done pre-launch.
Generally, at least three to four months in advance of a book's release is needed for a successful book launch. Every author is different. If he or she needs branding and social media, then we may need to begin many months in advance. A one-size fits-all approach is not something I recommend when it comes to book PR.
Keep in mind that getting book reviews, editorial reviews, author interviews, all need a strategic plan. In some cases we need to submit for reviews several months prior to a book's release. At Black Chateau, we sometimes book author interviews five and six months in advance. Starting a book marketing campaign in the 11th hour makes it more difficult, especially for indie authors.
Well, what if they say they can't afford it? What options do they have? (please talk about your Author Network service)
A traditional book publicist can cost nearly $3,000 a month and retainers are generally a minimum of four months. That's a lot of money for most authors!
That's why one of my company's most popular services—known as the Author Network—is moderately priced while also providing several key services that most authors need. It is a hybrid approach that combines elements of PR and marketing to deliver a monthly article, author interviews, book reviews, social media buzz, and live author events.
If an author spends years writing and editing their opus, I honestly don't understand how they could afford not to invest in book marketing and PR.
Are there any particular genres you like working with as a book publicist?
I love them all! Fiction and non-fiction stock my company's bookshelf. Put it this way, I never met a book I didn't like.
Could you share with us one of your author's success stories?
At Black Chateau, we love having happy clients. My day automatically brightens when we get a compliment or positive feedback. There are several testimonials on our website from satisfied clients. Read them here: http://www.blackchateauenterprises.com/success-stories/
What makes an author an ideal client for you?
We have so many diverse clients, and that diversity is something I really enjoy. Black Chateau represents a myriad of voices. My ideal clients are the ones that bring fresh, unique perspectives to the world. We are fortunate to have so many ideal clients at Black Chateau!