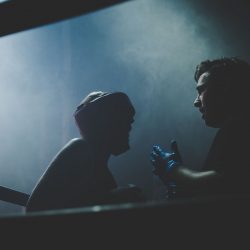 JONATHAN BROWN TO LAUNCH HIS NEW BOOK AT SANDPIPER BOOKS
Jonathan Brown wrote the book for Mentoris Books. When presented with a short list of famous Italians to write about Brown moved like a shot (or Ali's right hand) to Angelo Dundee. It was a no-brainer. Muhammad Ali was a childhood hero to Brown and the master behind the man was Angelo Dundee.
To train the greatest, he had to be the greatest. On the streets of South Philly, Angelo Dundee learned what it took to survive—a sense of purpose, a clear head, and sometimes a powerful right uppercut. Boxing was the family business and the ring was his home. A skilled trainer and cut man, Dundee intuitively adapted to whatever his fighter needed, be it doctor, therapist, drillmaster, or friend. With gauze and liniment or a well-timed joke, Dundee knew how to keep his guy in the fight and instill confidence in the bleakest of final rounds. For the boxing legends of our time, including Muhammad Ali and Sugar Ray Leonard, there was no one else they wanted in their corner.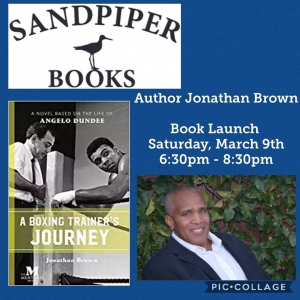 Brown's first mystery book The Big Crescendo—A Lou Crasher mystery will be released in November 2019 on Down & Out Books. The follow up Don't Shoot The Drummer will drop in early 2020 also on D&O Books. In 2007 he released an audio children's book entitled Kanu…A Boy's Journey. Jonathan wrote, recorded all 7 voices and performed the story at a dozen elementary and Montessori schools. A sequel is in the works. Towards the end of 2018, Brown wrote a fast-paced noir Novella titled: Moose's Law—A Doug "Moose" McCrae story. 'Moose' will be released independently in mid-2019. He's also got three short flash fiction stories in Out OF The Gutter Online.
Brown enjoyed music career as a drummer for several years. Upon meeting his girlfriend (later turned wife) Brown decided his days of being a rocker on the road were over. And although he takes the occasional gig here and there he still teaches part-time. "I ain't hung up the sticks yet baby!" It wasn't until 2003 that Brown took writing seriously and he hasn't looked back since. In addition to teaching and writing Jonathan works as a personal trainer and although he has never laced up the gloves in a serious way like his idol Ali, he does have a background in Hapkido karate. As a button at the close of every fitness class he imparts his favorite phrase to his clients: All of the world's problems can be solved with love!