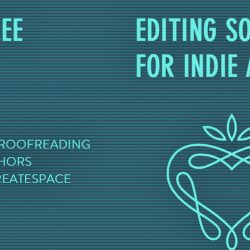 Sheryl Lee: Readers want professionally presented books
Sheryl Lee is an author across genres and a professional book editor. She has been helping indie authors with editing their manuscripts for several years. At the beginning of 2016, she started offering professional editing services for indie authors. "Indie authors work hard; they deserve a break. They deserve well-presented books," Sheryl explains her motivation.
The pros of working with a professional editor
It helps your book look professional. No matter how good your story is, if you haven't presented it professionally, they will not read it.
The reader is being carried away by the story instead of focusing on what the author means.
Editors have an arms' length view of the text. They are not as emotionally invested as the author.
Editors have in mind the best for the author and the book. Be open and flexible if you decide to work with an editor.
A few tips on self-editing
Sheryl Lee believes that authors cannot edit themselves properly because they read what they think they wrote instead of what they actually wrote. If you decide to self-edit and proofread,  put that book aside for at least two weeks. Then go back and read it again. Look up for the most common errors:
doubling up on a word
incorrect spelling
autocorrect interference – getting the wrong word correctly spelled
dialogue – when set incorrectly, the readers don't know who is speaking
punctuation: a full stop where it shouldn't be, a comma or inverted commas that shouldn't be there
sentences that are too long
Final word
"If you have a budget for self-publishing your book, invest is wisely," Sheryl Lee says. Use your money for:
a professional cover
promotion services
editing services
formatting services
Listen to the audio version of this article: