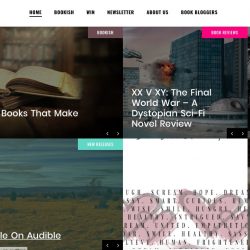 BOOKS THAT MAKE YOU: THE NEXT BEST PLATFORM TO HAVE YOUR BOOK FEATURED
Books That Make You is a new online platform for book-lovers. Not only it looks cool and stylish but it also features great content–book recommendations, reviews, news, author interviews, and more. Books That Make You will support promotions for authors and participate in popular literary events. For example, there are plans to have a Books That Make You booth at the 2019 LA Times Festival of Books.
Books That Make You was created by Desireé Duffy, who also founded Black Château, the marketing and public relations agency that specializes in books and authors. "Books That Make You is a bibliophile's dream. The website is a home for anyone who loves books. It's designed to be a fun and interactive bookish adventure," Duffy explains.
Books That Make You partners with other media to spread the word about books and authors.
Hollywood Weekly Magazine features a regular Books That Make You two-page spread. The article highlights a different theme each month with book reviews and an author spotlight.
A Books That Make You radio show is being produced for MyStar95.com. The online station focuses on positive and inspirational music and messages. The Books That Make You radio show showcases authors and allows them to discuss their books.
Books That Make You also sponsors Get Real Global Entertainment's show Jenny's Real Talk on the Block, which airs on LA Talk Radio, iHeartRadio, iTunes, YouTube, Alexa, and Spreaker. Host Jennifer Devoe and James Muse (a.k.a. the Muse) interview authors on the show which is renowned for supporting the creative world.
To stay up-to-date, people are invited to sign up for the Books That Make You monthly newsletter It includes special offers, news,and bookish giveaways.