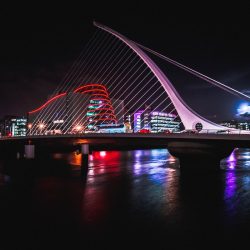 DAVID GAUGHRAN TO SHARE THE SECRETS OF SUCCESSFUL SELF-PUBLISHERS AT THE DUBLIN WRITERS' CONFERENCE
David Gaughran, one of the top international self-publishing experts, will share the secrets of successful self-publishers at the fourth Dublin Writers' Conference. His first session, The Secrets of Successful Self-Publishers, will introduce the strategies that really do sell books while the second one, The Readers' Journey will focus on mapping out the journey the Ideal Reader takes in their transformation from strangers to superfans.
The conference sessions are designed to help authors improve their writing craft, publish successfully, and plan the marketing necessary for any author to achieve success whether traditionally published or self-published.
The speaker line-up boasts a number of  renowned, highly-experienced, published authors, and world-class experts in writing craft and online marketing.  Amy Collins – the President of New Shelves Books, one of the best-known book sales and marketing agencies in the US, Laurence O'Bryan – published author, founder of BooksGoSocial.com and The Dublin Writers Conference, self-publishing and book marketing expert, Nicola Solomon –  CEO of the Society of Authors, and Jacq Burns – founder of the London Writers' Club are amomg them.
The Dublin Writers' Conference, one of the best yearly writing events in Europe, will take place in Dublin, Ireland from June 22 through June 24, 2018,  at the Academy Plaza Hotel, just off O'Connell Street (map,) in the heart of Dublin's city center. For those who can't travel around those dates, an online version is available.

The Dublin Writers' Conference Online
The online conference provides live and recorded video streams of the conference sessions. The group will provide access for you to watch the sessions in your own time. It will also allow you to ask questions before or during the conference by leaving a comment on the live video, or before and after the conference. It will almost be like being here, without having to pay the travel expenses.
Most sessions will be delivered in 360 virtual reality, so you can see all around the room and feel immersed in the conference. The closed group will allow you to meet other remote conference attendees and network too, so you will get a networking benefit too.
Registration starts at $10. For more details, click here.
Cover picture photo credit: Mark Dalton.