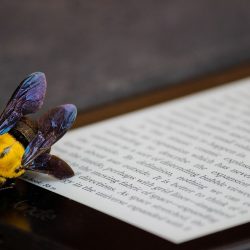 HUMAN TRAFFICKING ACTIVIST AND FOUNDER OF AIRLINE AMBASSADORS INT'L TO RELEASE MEMOIR
Nancy Rivard, founder of Airline Ambassadors International and recipient of the 2018 United Nations Human Rights Award will release her memoir, "Wings of Love," in 2019. The funds for the project, which aims at inspiring people to bring love into action at a global scale, will be raised through a crowdfunding campaign.
In Wings of Love, Rivard shares the story of her journey to her life purpose, which led her to start Airline Ambassadors International. AAI is the most successful non-profit in the airline industry, saves millions of lives, and began the fight to stop human trafficking in 2010.  It also led Rivard to marry the man of her dreams!
The main themes — fulfilling one's destiny by being of service, and finding true love, echo two of the most burning desires of men and women all over the world.
"People don't really learn from facts and figures," Rivard explains. "The best way we can shift their perspective — to something larger than themselves — is to give them a personal experience or a story through which they can live vicariously. I am writing "Wings of Love" because I want to inspire people with a story that will move their soul. Hopefully, the Wings of Lovebook will inspire readers to ask themselves the essential question: 'How can I serve?"
In Wings of Love, Rivard opens up her heart and reveals the good and the bad, the happy moments and the heartbreaking challenges, the unexpected traps, and the powerful lessons. The memoir makes a case for kindness, compassion, and generosity as inherent features of the human soul as opposed to the world being portrayed as a place of hatred and separation. Rivard's memoir leads the readers on a journey across continents, from hip California to refugee camps in Kosovo, to poverty-stricken El Salvador.  Readers will meet extraordinary people–unknown heroes, spiritual teachers, and former heads-of-state such as Mikhail Gorbachev, Grandfather David, Spiritual Elder of the Hopi's, famous Clown Doctor, Patch Adams, visionary biologist, Elisabet Sathouris, Congressman Tom Lantos, the Dalai Lama, Bishop Tutu and Deepak Chopra.
"I believe that earth is actually a schoolroom for us to continually reap the effects of our actions until we realize that it's a never ending cycle," says Rivard. "Frankly, it gets boring to live only for ourselves. After enough experience we realize that it is only through caring, sharing, and bringing love into action that we feel fulfilled. As each of us finds our unique way to serve, our unique talent to share, we can change the world for the better," she adds.
Since 1996, when she founded Airline Ambassadors International to make a positive change in the world, Rivard has helped millions of orphans and vulnerable children and human trafficking victims. Now, she relies on the help of others to bring her new project to life. "Wings of Love" is more than a book, or the story of someone's life. It is a tool for us to build a global tide of good will," she says.
The proceeds from the crowdfunding campaign will be used to cover the costs of the technical aspects of publishing 'Wings of Love," as well as the marketing campaign that will include a book launch tour in the US.
Wings of Love is being co-written by journalist and author A.G. Billig. The book came about through the work of AAI's original Director of Protocol, Maria Harrison. Its sponsor is life coach and philanthropist Ronda Coallier, and the project is being produced by Professor Frank Chindamo.
Cover picture by Nemichandra Hombannavar.