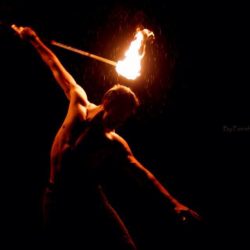 L. RON HUBBARD ACHIEVEMENT AWARDS GALA CELEBRATES SCIENCE FICTION AND FANTASY ON APRIL 5TH
Author Services, Inc. and Galaxy Press will present The 35th Annual Writers of the Future and the 30th Annual Illustrators of the Future L. Ron Hubbard Gala Achievement Awards celebrating the winners of the Contests, honoring 12 writers and 12 illustrators from around the world for their excellence in the genres of Science Fiction and Fantasy.
The Black Tie Event, with celebrity award presenters, will be held at the Taglyan Complex, 1201 Vine Street (at Lexington Avenue, the entrance for Valet Parking), Hollywood, CA  90038.  Red Carpet Arrivals begin at 4:30 p.m.  Emceed by Gunhild Jacobs, Executive Director of Author Services, Inc., the Invitation Only Event will be catered by Divine Catering.  The Awards Banquet will start at 6:00 p.m.  Members of the General Public can watch the Awards Show streaming live from 7:30 – 9:30 p.m. PST at www.writersofthefuture.com.  A Book Signing and Reception with follow the Awards Show in the lobby of the Taglyan Complex.
Joni Labaqui, Director of the Contests for Author Services, Inc. said, "This year marks a historic milestone in our contests with simultaneous benchmark anniversaries, both the 35th Anniversary of our Writer's Contest and the 30th Anniversary of our Illustrator's Contest.  On the evening April 5th Author Services, Inc. will present awards to 24 Science Fiction and Fantasy Writers and Illustrators of the Future that have been chosen as winners of the 2018 contests adjudicated by world renowned Science Fiction and Fantasy Writer and Illustrator Judges.  Our theme for this year's two-hour awards show is 'Retro Robotics.'"
John Goodwin, President of Galaxy Press, said, "One Grand Prize Writer Winner and One Grand Prize Illustrator Winner will be selected from a field of 12 Quarterly Writer Winners and 12 Quarterly Illustrator Winners, respectively.  Our contests promote the arts welcoming diversity, ethnicity, creativity and equality, with no age limits.  The Awards Show and Banquet will be held in the Taglyan Complex's Grand Ballroom, and will be followed by a Book Signing and Reception."
Labaqui continued, "Our show will open with a Sci-Fi Stomp and Body Percussion Dance featuring a Robot from NASA's Jet Propulsive Laboratory in Pasadena, CA and dancers from EM Cirque, a world renowned aerobatics and dance troupe."
Goodwin added, "Bob Eggleton, a Founding Judge of the Illustrators of the Future Contest will be honored with a Lifetime Achievement Award.  Ed Hulse, an award-winning author, journalist and historian, will serve as our Keynote Speaker.  The Heinlein Society, named after the late Robert Anson Heinlein, an American Science Fiction author, aeronautical engineer and Naval Officer, often referred to as the 'Dean of Science Fiction writers,' will present Author Services, Inc. with a Special Recognition honoring the 35th Anniversary of the L. Ron Hubbard Writers of the Future Contest."
Awards Show Celebrity and VIP Guests and Presenters will include:

Sibongile Mlambo ("Dark/Web," "MacGyver," "Siren," "Lost in Space," "Teen Wolf," "Black Sails")
Lee Purcell (Primetime Emmy Award Nominee, "Secret Sins of the Father," "Long Road Home," "J.L. Family Ranch," "Kids Vs Monsters," "Valley Girl")
Steven L. Sears (Co-Executive Producer, "Xena:  Warrior Princess," Executive Producer, "Sheena," Producer, "Raven")
Sean Cameron Michael ("The Last Victims," "Black Sails," "The Mummy," "MacGyver")
Hank Garrett ("Death Wish," "The Amityville Horror," "Serpico")
Phil Proctor ("Monsters, Inc.," "Assassin's Creed," "Flightplan," "Dr. Doolittle 2")
Judy Norton ("The Waltons," "Stargate SG-1," "Bluff," "Nowhere To Hide")
Jim Meskimen ("Parks and Recreation," "How The Grinch Stole Christmas," "S.W.A.T.," "The Marvelous Mrs. Maisel," "NCIS")
<Taylor Meskimen ("Superstrata," "The Hollywouldn'ts," "Chastity Bites")
Edwin Gagiano ("Snake Park," "Proper Manors," "Broken Darkness," and "Villa Rosa")
Kelton Jones ("Dry Blood," "Townies," "The Passion of the Christ")
Daniel Kotto ("Forever," "Blood Orange")
Jesse Kove ("On Wings of Eagles," "Show No Mercy," "The Shadow")
Gino Montesinos ("NCIS," "Adopted," "Curb Your Enthusiasm")
Jeffrey Patterson ("Another Day in Paradise," "Finding Harmony")
Autumn and Paige Patterson (Twin Sisters, "Another Day in Paradise," "Hot Bath an' a Stiff Drink")
Brittany and Brianna Winner (Twin Sisters, national bestselling, multiple award-winning Science Fiction novelists, and Pinnacle award-winning teachers)
Ed Hulse (Keynote Speaker and award-winning journalist and historian who specializes in documenting American popular culture of the late 19th and 20th  Centuries)
Bob Eggleton (Lifetime Achievement Award Recipient, Hugo Award and Chesley Award-winning Artist; Founding Judge of the Illustrator's Contest)
Dr. Beatrice Kondo (Assistant Program Director for the Masters of Science in Biotechnology at Johns Hopkins University and on the Board of Directors of the Heinlein Society.)
Gunhild Jacobs, Executive Director for Author Services, Inc. will Emcee the event, and Joni Labaqui will present The Golden Pen Award and a $5,000 Grand Prize Check to the winner of the of the Writers of the Future Contest, and The Golden Quill Award and another $5,000 Grand Prize Check will be presented to the winner of the Illustrators Contest.  John Goodwin will unveil the 35th edition of "L. Ron Hubbard Presents Writers of the Future Volume 35," with a cover painted by internationally renowned artist, Bob Eggleton.

This year's live awards show will be simultaneously broadcast to a worldwide audience via the Internet.  Streaming will be live beginning at 7:30 p.m. PST and continue to 9:30 p.m. from www.writersofthefuture.com.  The airing time of the broadcast will vary depending on the time zone viewers are residing in.  Directly following the awards show the winning authors and illustrators will sign books at a reception to be held in the well-appointed lobby of the Taglyan Complex.  This year's contest winners will also have the opportunity to attend workshops held here in Los Angeles one week prior to the awards show to network with the renowned writer and illustrator judges of this year's competitions to gain valuable feedback to help them advance their careers in their chosen fields of interest.
This Black Tie Event is by Invitation Only.  Members of the General Public can watch the awards show streaming live from 7:30 – 9:30 p.m. PST on Friday, April 5, 2019 at www.writersofthefuture.com.  To view a B-roll link of this year's show announcement, please visit:  www.writersofthefuture.com.
For more information, on the Contests, please visit the website, www.writersofthefuture.com.  Network with Writers of the Future at https://www.facebook.com/WritersAndIllustratorsOfTheFuture and on Twitter and Instagram @WOTFContest.  #WOTF35
The 12 Writer Winners of the 35th Annual Writer's Contest include:
Kyle Kirrin of Creede, CO (First Quarter Winner)
Preston Dennett of Reseda, CA (First Quarter Winner)
Kai Wolden of Eden Prairie, MN (First Quarter Winner)
<David Cleden of Fleet, Hampshire, UK (Second Quarter Winner)
Rustin Lovewell of Gaithersburg, MD (Second Quarter Winner)
Carrie Callahan Bardstown, KY (Second Quarter Winner)
Elise Stephens of Seattle, WA (Third Quarter Winner)
Christopher Baker of Ramsbury, Wiltshire, UK (Third Quarter Winner)
Mica Scott Kole of Westland, MI (Third Quarter Winner)
Andrew Dykstal of Arlington, VA (Fourth Quarter Winner)
Wulf Moon of Sequim, WA (Fourth Quarter Winner)
John Haas Ottawa, Ontario, Canada (Fourth Quarter Winner)
The 12 Illustrator Winners of the 30th Annual Illustrator's Contest include:

Emerson Rabbitt of Minneapolis, MN (First Quarter Winner)
Vytautas V of Paris, France (First Quarter Winner)
Yinying Jiang of Oxford, Oxfordshire,, UK (First Quarter Winner)
Alexander Gustafson of Essex Junction, VT (Second Quarter Winner)
Christine Rhee of San Francisco, CA (Second Quarter Winner)
Sam Kemp of Birmingham, West Midlands, England (Second Quarter Winner)
Allen Morris of Cleveland, MS (Third Quarter Winner)
Jennifer Ober of Atlanta, GA (Third Quarter Winner)
Josh Pemberton of Seattle, WA (Third Quarter Winner)
Qianjiao Ma of Dublin, CA (Fourth Quarter Winner)
Alice Wang of Bellevue, WA (Fourth Quarter Winner)
Aliya Chen of Fair Oaks, CA (Fourth Quarter Winner)