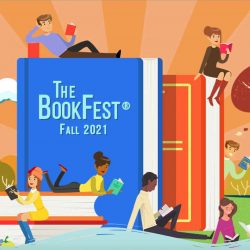 PITCH YOUR MANUSCRIPT AT THE BOOKFEST®
Authors interested in pitching their manuscript to literary agents and getting professional feedback on their writing can do it at The BookFest®, the Fall edition happening October 23-24.
If you're ready to pitch your fiction or non-fiction manuscript to agents and publishing decision-makers, then enter the Pitching Room at The BookFest Adventure. It is a database that matches authors with agents, like a dating app, but for manuscripts. For a small fee, you can create a profile, upload your pitch materials so agents and publishing decision-makers can check them out.For more details, click here.
Plus, there are two special add-ons. You can add that you'd like to be considered for Brave New Writer and/or Critiki-Bar. These live interactive panels happen on Saturday, Oct. 23rd during The BookFest Fall 2021.
Brave New Writer is an interactive agent panel will feature select authors with outstanding pitches to take the virtual stage and pitch before a panel of agents. It's like Shark Tank, but for writers. To be considered, add on Brave New Writer when you submit your pitch in the Pitching Room. The panel is brought to you in part with Roadmap Authors, who will present a special pitching virtual training session for selected Brave New Writers prior to the live event.
Critiki-Bar will give you the opportunity to get feedback on the first page of your manuscript from David L. Robbins—New York Times bestselling author, creative writing professor, founder of James River Writers and The Mighty Pen Project, and co-founder of the Podium Foundation– and Katharine Sands, Literary agent representing fiction, non-fiction and memoir. Agent provocateur of Making the Perfect Pitch: How to Catch a Literary Agent's Eye, a collection of pitching wisdom from leading literary agents.
Critiki-Bar features a two-sided assessment from both the business and the craft side of writing — served with wit, insight, experience, and punch. Have a seat while this highly regarded literary agent and a New York Times bestselling author discuss — and debate — aspects of creating a skillfully told story and navigating the professional side of publishing by dissecting that oh-so-important first page.
Do you want your first page to be considered for Critiki-Bar? Then add on Critiki-Bar when you submit your pitch in the pitching room.