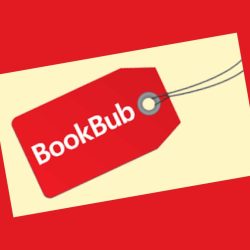 5 KEY THINGS TO KNOW ABOUT BOOKBUB AS A SELF-PUBLISHED AUTHOR
BookBub is a platform with a huge following that allows readers to discover new books through discounted deals and curated recommendations. It offers readers free and affordable ebooks, while also allowing authors to gain an audience by featuring their work.
To clarify, BookBub isn't a marketplace where any actual selling happens, it simply introduces you to books and deals that are available on a range of retailers, such as Apple Books, Amazon Kindle, Barnes & Nobles, etc. 
For most authors, while writing a book is hard enough, finding readers is often the true challenge. Especially for self-published authors who don't have a corporate marketing team behind them. That's where getting featured on this popular platform can really change the game, as it features your titles in front of an eager audience of readers. 
If this sounds interesting, here are some tips on how you can make the most out of Bookbub as a self-published author:
1. A BookBub author profile increases your visibility
A Bookbub author profile is a page dedicated to showcasing yourself and your oeuvre. It includes an author bio, a profile picture, and a list of books you've written. Having an active and credible author profile can massively help you get noticed and build your following as it is used to send 'suggested authors' to new and current members on a daily basis. 
Aside from getting the basics right (having a good author bio, profile picture, and up-to-date information about your titles), what also helps increase discoverability is recommending other authors and their work. This helps engage and connect with readers as you appear on their social feed as well on the recommended books' page, as a reliable source for recommendations (and not only to do self-promotion). 
If a reader goes to your author's profile, they can also click on the 'Reviews' tab and see the books you've reviewed and recommended. All you need to do to get started is create a Bookbub Partner account and claim your profile. A well-made author profile can be the differentiating factor between a new reader and someone who simply clicks past you.
2 . Aim for featured deals
Bagging a featured deal is the Bookbub equivalent of winning the jackpot. In their daily newsletter, Bookbub sends out a curated list of discounted deals featuring ebooks across all their categories — action and adventure, sci-fi, romance, etc. Naturally, BookBub is highly selective about the books they choose to feature in this list. So, meeting the submission criteria is the bare minimum. When choosing amongst the hundreds of submissions they receive daily, their team looks at content quality, book cover design, reviews, etc. to select only the most appealing submissions. Truly, securing this prized spot can sky-rocket your sales overnight. 
The reason this is BookBub's most popular advertising option is that it has a proven high return on investment. While it doesn't cost anything to submit your book for a featured deal, if your book does end up getting featured, you'll have to pay BookBub for it (but it's well worth the price). Prices vary based on genre and discount rate but more details on their pricing can be found here.
3. Make sure you're offering a significant discount
BookBub only offers its members generously discounted books. A major reason that books get rejected for featured deals is that they don't meet BookBub's pricing requirements (that books must be free or discounted by at least 50%). BookBub won't even consider your submission if it was recently being sold for a lower price, as they promise to give their subscribers the best offer possible.
In fact, if you have a series to promote, bundling books together works extremely well on the platform. This means offering the first few books in the series at a heavily discounted price, getting the readers hooked to your plot, and then selling the later books at full price. This could mean selling books worth $6.99 at $0.99 but the volume of sales (as well as your discoverability) will more than make up for it, especially if you have books in your backlist listed at full price. 
4. Get as many reviews as you can
Getting others to leave good reviews on your books speaks volumes, increasing your credibility as well as boosting your author profile. While these reviews are mostly from readers, other verified authors can also read and recommend your book, encouraging mutual support and collaborations within the author community. 
Reviews are also a critical factor in the Bookbub selection criteria, helping editors understand how your book has been received by readers. In fact, applying for a featured deal without collecting enough reviews is a pointless endeavor. To know how many reviews are 'enough,' take a look at the featured books in your genre. If you don't think you've got enough, my previous post on this blog can offer you 5 ways to get more book reviews — you'd be surprised at how effective simply asking your readers to leave a review might be.
5. Leverage BookBub for new releases and pre-releases
BookBub has a feature that sends out alerts to readers whenever authors they follow have a new release available. Given that these are readers who already follow and like you, you're essentially targeting a highly motivated audience that actually wants to know about your book! This is more likely to result in sales than targeting a wider, more general audience, especially since this initial audience of loyal fans can do wonders for your book, leaving behind reviews and building momentum to catapult your book to success. And if your book isn't ready to be released yet, BookBub's pre-order alerts can let your readers know that there's a new title in the pipeline, promoting your book even before it's ready!
Because BookBub is such a popular platform with a huge reader base, it can be pretty costly for authors. However, if you're a self-published author with a sizable marketing budget, you should definitely consider BookBub's different deals and packages (beyond the featured deals) as part of your marketing strategy to connect with readers and get your book out there. 
Bio: Rose Atkinson-Carter is a writer with Reedsy, where she advises authors on all things publishing, ranging from writing flash fiction and nonfiction book proposals to finding literary agents. She lives in London.