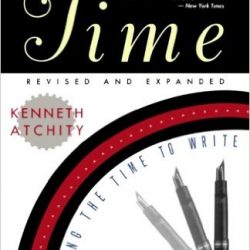 A WRITER'S TIME: MAKING THE TIME TO WRITE
As a self-published author, you know you need to make a necessary split between the pragmatic publishing side of your mind and the artistic side from which true satisfaction derives. This book by Ken Atchity will show you how and so much more.
For nearly a decade, thousands of writers―aspiring and professional―have relied on this book, the first to apply time-management principles to the specific needs of writers of fiction, nonfiction, and drama.
Expanding his focus now, Kenneth Atchity adds a substantial new chapter, "Breaking into Show Business," and new material about recapturing the "high" of creativity and maintaining confidence despite setbacks. He shows you how to transform anxiety into "productive elation," how to separate vision from revision, and how to develop your own writing agenda.
This book, based on his writing seminars, research into dreams and creativity, and film development, is, as the New York Times states, "crammed with the sort of useful advice that it seems to take some people years to learn." It also shows you how to make the necessary
About the author: Dr. Ken Atchity is a writer, producer, teacher, career coach, and literary manager, responsible for launching hundreds of books and films. His life's passion is finding great stories and storytellers and turning them into bestselling authors and screenwriters–and making films which send their stories around the world.
Category: productivity, writing craft, creativity, successful mindset
Buy this book here