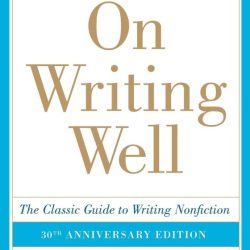 On Writing Well
Category: Writing Craft, Creativity
Best for: Authors at All Levels
30 years after its first publication, this book continues to be an Amazon bestseller and a must-read for improving one's writing style.
An excellent guide for novice writers to become seasoned writers, writes a recent review. On Writing Well: The Classic Guide to Writing Nonfiction, first published in 1976, has sold almost 1.5 million copies to three generations of writers, editors, journalists, teachers and students.
Writing to Learn which uses examples of good writing in science, medicine and technology to demonstrate that writing is a powerful component of learning in every subject.
On Writing Well has been praised for its sound advice, its clarity and the warmth of its style. It is a book for everybody who wants to learn how to write or who needs to do some writing to get through the day, as almost everybody does in the age of e-mail and the Internet.
Whether you want to write about people or places, science and technology, business, sports, the arts or about yourself in the increasingly popular memoir genre, On Writing Well offers you fundamental principles as well as the insights of a distinguished writer and teacher. With more than a million copies sold, this volume has stood the test of time and remains a valuable resource for writers and would-be writers.
About the author: William Zinsser, born in 1922, was a writer, editor and teacher. He began his career with the New York Herald Tribune and has been a longtime contributor to leading magazines. His 17 books include Writing to Learn; Mitchell & Ruff; Spring Training; American Places; Easy to Remember: The Great American Songwriters and Their Songs; and most recently Writing About Your Life. During the 1970s he taught writing at Yale, where he was master of Branford College