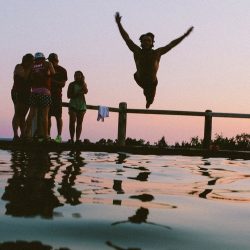 FIVE ESSENTIAL RULES FOR SUCCESS
Nowadays, aspiring authors pay good money on online seminars, live events, and literary organizations memberships hoping that they will end up with the secret  formula for success. But many times, all it takes to get it is to keep your heart and eyes open. And you may even learn the essence of what you need know in a parking lot.
That is what happened to me in the parking lot of the Huntington Beach Public Library. That is where I met Ed McCabe, an estemeed professional pet trainer (as marked on his business card). This man  whom tourists in Laguna Beach frequently mistake for Sean Connery is a creator at heart. His documentaries could easily be turned into bestselling books and his animation movie (still a work in progress) into a Hollywood success. My short conversation with Ed in the parking-lot, guarded by a pair of gentle spaniels, outlined five essential rules for success as an author:
1. Never leave home without your business cards. Of course I wanted to stay in touch with Ed. But because I didn't have any professional meeting schedulded for that day, my business cards were at home. Luckily, he was kind enough to exchange phone numbers. But what if you meet a literary agent? Or a movie producer? Carry your business cards with you  anytime, anywhere. You never know whom you may meet. Better have them then being sorry. You don't have business cards yet? Go to the nearest Staples, and order some.
2. Think of writing as a business. Yes, you will let yourself be inspired. Yes, you will pull over every now, and then to jot down a great idea. Yes, you'll write your piece of art. But you also need to consider if people will want to buy your creation. Otherwise, you will have to stick with that day job you don't like so much for the rest of your life.
3. Tap into people's emotions. Speaking about buying, tapping into people's emotions is one of the biggest secrets of being successful. Everything we do is driven by emotions. Remember this when you write and, also, when you choose your book cover.
4. Make sure you have E.T. moments in your book. In case you wonder what is a "E.T. moment", just have a look at the video bellow
Adding something enthralling when the reader least expects it, that's an E.T.moment.
5.Don't sell yourself short. People are willing to pay for good quality, for what they appreciate and value. Therefore, once you have a great book, don'r be afraid to ask for the right price.
Meet Ed McCabe here.
If you had similar experiences, please, let us know in a comment below,