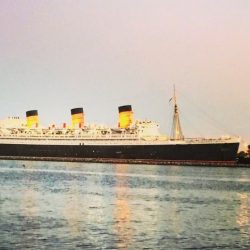 GEORGE R.R. MARTIN, GUEST OF HONOR AT StokerCon 2017
George R.R. Martin is one of the guests of honor at this year's StokerCon, the annual convention of The Horror Writers Association (HWA), the premier organization of writers and publishers of horror and dark fantasy in the US. The event is scheduled for April 27-30, 2017 aboard the Queen Mary in Long Beach, California.
Elizabeth Hand, Chuck Wendig, Peter Crowther and Bill Bridges are also among the speakers.  In addition to attending the prestigious Bram Stoker Award® on Saturday April 29th you can enjoy panels, presentations, Horror University classes, The Lucky 13 Film Festival, a mini-academic conference coinciding with the convention, special programming for librarians on Librarian's Day (Thurs April 27), high tea with your favorite horror authors, ghost tours, and a harbor excursion for early arrivals.
The registration cost is $175 for HWA members / $195 for non-members through April1st or $200 for HWA members / $195 for non-members at the door. You can also buy a day pass for $60.