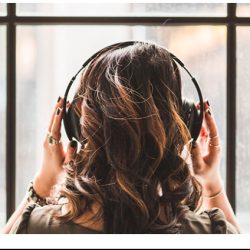 JANINE GRANDA: THE TIME AND EFFORT WE PUT INTO PRODUCING AN AUDIOBOOK NEEDS TO PAY OFF
The 32.1% rise in digital audiobook revenues in 2018's first quarter testifies that people enjoy stories in different formats. Digital, when they travel, print at home, audio during commuting. For those authors who have figured it out, audiobooks make a significant additional revenue stream. Janine Granda, actress and voice talent answers some of your burning questions and shares insights about audiobooks from the perspective of a narrator voice talent and audiobook aficionado.
* How can you make your project interesting and increase the number of audio book sales?
* What are the ingredients of a great audio book?
* How do you, as an author, make sure you pick the right narrator's interest in working with you?
What kind of audiobooks do you enjoy?
I would say that I am very open to any genre as I just really love a good story. However, I tend to seek out and enjoy the audiobooks that match closely to my reading tastes. So, I tend to prefer self-help (I'm obsessed with self-help books and own many myself), science fiction/fantasy, and mystery-thrillers.
What makes an audiobook great?
 I strongly feel  that both the performance and the story is what makes an audiobook truly great. It's important that the narrator is engaged, excited, and just having fun with the story because a listener can feel it just like the audience can feel it when an actor is really loving their role and giving it their all versus an actor who may really dislike the project they're working on for whatever reason they may have.
When an actor (be it in front of a camera, on stage, or behind a microphone) is invested and having a good time, we – the audience – can't help but feel the same.
But, the story is equally important as that is what takes us on the journey. When a story teaches us something new, makes us think differently, or really helps us escape into another world that is what tends to stick with the audience. You can really have a great narrator but if the story isn't fulfilling, it likely will be forgettable and you can have a great story but if the narrator isn't invested or doesn't infuse any of their emotion and personality into the story, it won't make for an enjoyable listening experience.
I feel that both the performance and the story is what makes an audiobook truly great
What prompted you to become an audiobooks narrator and what do you like most about it?
Growing up and going to school, I was always that child that when a teacher asked the class as to who would like to read a passage aloud, would shoot up my arm as quickly as I possibly could. I loved reading and loved reading to my classmates. I should have probably figured out back then that there might be something to that, but it never really occurred to me that you could make a living doing it.
As I grew older, I graduated with a degree in Theatre and had become interested in voice-over due to my love of animation and video games. I had researched how to get started and began to follow actors who had been successful in the voice over industry and happened to listen in on an audiobook workshop that was being held online. I thought I'd give some of the tidbits I learned from the workshop a try to get my foot in the door and actually booked my very first audition. It wasn't for just any book though, it was for a four-part series! I guess that's when I realized that being an audiobook narrator really could be in the cards for me. I just love going on the journey, growing with the characters and learning from them. It helps me escape just as reading does and as an actor, really fuels my creativity and expression.
How should an author present his project on ACX to stir your interest and convince you to get involved in the project (especially if he picks the royalty share deal instead of paying for the audiobook production)?
I take into consideration three things before I audition for a royalty-share project:
1) number of sales/sales rank on Amazon,
2) what the author says about themselves and the project, and
3) the script.
Unfortunately, authors are (mostly) unable to control their book's sales rank on Amazon, but there are several things you can do to make a project interesting and increase the number of sales.
ACX allows authors to talk a bit about themselves and their book. In this area, I tend to look for an author who has discussed their marketing efforts (e.g. how many followers they have on social media, how many people they have on their email list, etc.) and/or if they have received any recognition for their work such as an award or nomination. This is very important because with Royalty-share, narrators do not get paid a finished hourly rate (union rate is $250/per finished hour for ACX) so, it is imperative for us to know that there is an eager fan-base as we only make money when there is a sale.
We want to be sure that the time and effort we have put into producing an audiobook pays off. This area also is a great indication as to how passionate and confident the author is of themselves and the work they have done.
Lastly, the script and this will primarily be based on personal taste. For me, the script does need to call to me and ideally would align with my core beliefs and values. If an author has decided not to upload a portion of their manuscript for the audition or the manuscript is very short (e.g. a paragraph or two long), that is a big red flag for me. So, I do recommend including a few pages from one of your favorite passages in the book you have written.



What tips can you get to authors to make the most out of their collaboration with a narrator?
As in any successful and positive relationship, communication is key. I have experienced authors who are not very responsive to messages and emails which has been worrisome to me and can be a bit frustrating as well – particularly if we have a question. So, it is important for both author and narrator to keep their door open to one another. I enjoy regularly updating authors I am working with. When I have uploaded several chapters, I always reach out and let the author know as they will know that I have not forgotten my responsibilities in producing the work and allows me to request a review of any changes they would like for me to implement.
Skilled narrators (the real pros) love to collaborate and are really open to taking direction from the authors we work with.
Skilled narrators (the real pros) love to collaborate and are really open to taking direction from the authors we work with. If you envisioned a character being perhaps more edgy and cold than awkward for instance, let us know. We'd be happy to discuss our interpretation and make a change for you as we want you to be thrilled with how your story has been told. Having said that, it is important to not micro-manage your narrator as it could be interpreted as a level of mistrust. When you have decided on a narrator, it is because you heard something in us that really resonated with the story you told and it is important to let us tell it as we see it. Of course, if the narrator is WAY off base, left out words, or mispronounced a word, let us know – we'd be happy to course correct!
Bonus tip: if you have written a book containing names of characters or places (this especially happens with science fiction and fantasy) that have a specific pronunciation that likely cannot be found via a simple Google or YouTube search, I highly recommend sending a pronunciation guide to your narrator. You can do this via excel or even an audio file you recorded via your phone.
We want to be sure that the time and effort we have put into producing an audiobook pays off.
How long does it take for you to complete an audiobook? Any special preparations?
When I have been offered an audiobook, the first step I take is to read the script in full. If time is tight, I might skim it but this step is important because it allows me to discover any potential sticky areas I may encounter such as pronunciations that may need to be clarified and also character descriptions. Sometimes a character's demeanor or background is revealed later in the book and if a narrator does not read it, they may start the book having misinterpreted that particular character. Reading the work first really helps to minimize confusion and the potential need to redo what we have already narrated.
Currently, it takes me about 2-3 hours for every finished hour of audio. This will include the time it takes to record, edit, and master. My editing process includes a listen-through of the chapter in which I compare what I have recorded to the manuscript. I do this as it helps me catch any words I may have missed or accidentally said in place of another word and helps me review my performance as well. This is when I make any adjustments before uploading it for the author to review as I want to ensure the author gets a great product the first time around.
All in all, it takes me around 3-4 weeks to complete an average audiobook. This includes reading the script, uploading the first 15 minutes for review, uploading each chapter, and the back and forth I may have with an author.
In the case of royalty share deals, how do you team up with the authors to promote the audiobook?
I have participated in promotions on Facebook in which an author was slated to take over a private Facebook group in which I had made an appearance to support and answer any questions fans may have. I also enjoy sharing news of my latest audiobook releases on social media and sharing/retweeting anything an author has posted about the audiobook. ACX really supports narrators and rights holders (a.k.a. authors or producers) by sharing 25 promotional codes that we can share to help promote the audiobook as well. That one is always enticing for listeners and a great way to spread word-of-mouth.
Before you go….
If you want to learn more about Janine Granda, visit her website.
Need help with self-publishing your book? Bestselling authors and book marketing experts show you how at Self-Publishing Mastery Summit Online. Get access NOW!