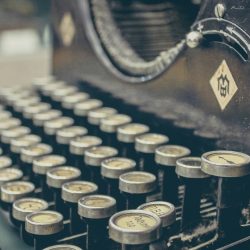 KOBO WRITING LIFE DIRECTOR TO SPEAK AT THE GREATER LOS ANGELES WRITERS CONFERENCE
Mark Leslie Lefebvre, the Director of Kobo Writing Life, believes that there has never been a better time to be a writer. He will explain why during a special event scheduled for Sunday, June 18 at 12pm in conjunction with The Greater Annual Los Angeles Writers Conference.
The guest of honor will talk about  the incredible opportunities available for writers today thanks to the advent of digital publishing and will also share recent success stories and the earning possibilities that now exist for writers, agents, and publishers. Mark Leslie Lefebvre a successful writer in both self-publishing and traditional publishing, has worked in the book industry since 1992. He the former President of the Canadian Bookseller Association, a former board member for BookNet Canada and regularly speaks on publishing in Canada, the United States, and Europe.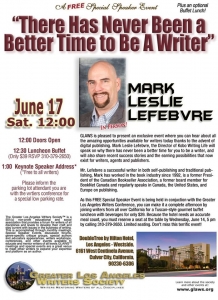 The Annual Greater Los Angeles Writers Conference starts on Friday, June 16. It differentiates itself by presenting individual tracks for Aspiring, Active, and Accomplished writers. Each offers a progression of educational lectures, panels, interactive workshops and special events for these levels of expertise, so every writer is immersed in an educational and inspirational environment all weekend. You can choose your level of participation based on your interest, and crossover at anytime. More than 40 speakers will appear in three days. A.G. Billig, the founder of Self-Publishing Mastery, is one of them. She will be moderating the panels on How to Jumpstart Your Writing Project and Marketing Yourself And Your Books in the 21st Century.
The conference is also a once a year opportunity to meet and pitch top literary agents and publishers looking for new talent with polished manuscripts. Plus, you can meet and network in person with literary agents, professional editors, and industry professionals, who can guide you on the path to success.
Follow us on our Facebook page for live videos and updates from the conference.
Watch the video bellow to find out everything you need to know about this event from its president and founder, Tony N. Todaro.