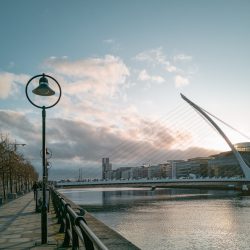 THE INTERNATIONAL DUBLIN WRITERS' FESTIVAL PUT BACK TO SEPTEMBER
The International Dublin Writers' Festival has been put back to the 10th-13th of September due to the worldwide spread of Covid-19. Laurence O'Bryan, the founder of the event, announced refunds will be available until the 1st of September for those unable to attend the live or online conference later this year.
Laurence O'Bryan, the founder of The International Dublin Writers' Festival, also announced they will be expanding their online conference, so if you are unable to attend in person you may want to watch those when they become available.
Every year, since 2015, the conference welcomed writers to learn, network and improve their craft, bringing in front of the audience top publishing experts and authors. The 2020 edition is no exception.
The speaker line-up includes:
Ivan O'Brien: President of Publishing Ireland and Managing Director of O'Brien Press in 2006. O'Brien Press is Ireland's leading independent publishing house with over 1000 books published, many of which have gone on to international success.

Peter Miller: Known as the 'Literary Lion', the President and CEO of Florida-based Global Lion Intellectual Property Management (formerly PMA Literary & Film Management Inc. of New York)

Robin Cutler: Director of IngramSpark at Ingram Content Group

Danielle Hampson:  Publishing industry podcasting pioneer, who created "The Authors Show®" in 2005 and has since processed over 5000 traditionally and independently published authors from around the world.

Seán O'Connor: Author and Chair of the Horror Writers Association Ireland.
The registration for the conference is still open. For more details about the International Dublin Writers' Festival please check the event website.