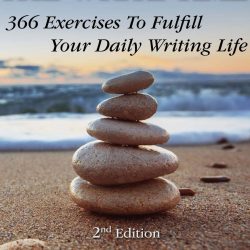 The Write Time
366  EXERCISES TO FULFILL YOUR DAILY WRITING LIFE
In her book, Big Magic, Elizabeth Gilbert writes about her passion and dedication to being a writer, and how setting aside daily time for polishing her craft helped her become a wizard of words. Even when you are not working on your next novel and especially when you hear writer's block knocking on the door, don't let a day go by without touching that computer keyboard. The Write Time: 366 Exercises to Fulfill Your Daily Writing Life will give you the right tools.
Writers and Educators: Welcome to The Write Time. Take the year-long, 366-exercise journey plotted in these pages, give yourself over to its process, and behold the inevitable transformation. The Write Time features a wide variety of exercises that serve every genre, and every level of writer — from novice to well-published author. They build your skills and diversify the subjects to write about, refining both fiction and non-fiction skills. Also features daily quotes from authors and motivators, historical literary moments, author birthdays, and much more.
'The knowledge gleaned from a prolific writing and teaching career has been expertly translated into this entertaining, informative and practical tool."
— Lynne Martin, Author, Home Sweet Anywhere, 2014New York Times bestseller
'An invocation to sit at the shore of new creativity, take up your ink-cup, drink plentifully, and be refreshed by the waters of a new day, all intentionallyassembled by a fellow writer, reader and lover of literature.'
— Andres Torres, AP English director, Minooka (IL) Community High School
'Whether you are a professional writer, a student, or simply love to journal, you must read and utilize this work of art in your daily contemplations.'
– Cleveland Book Review
Get your copy here.