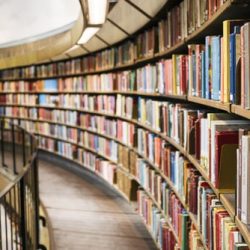 ANAHEIM CENTRAL LIBRARY CELEBRATES THE INDIE AUTHOR DAY
What are you doing on October 13? We hope you are going to celebrate yourself and the Indie Author Day same as the authors in Southern California and Anaheim Central Library. Don't miss this fantastic event and the opportunity to connect and network with your fellow authors! Author readings and panel discussions, among other things, await you!
Celebrate 32 Southern California authors, who are either self-published or published through small press, in a day of education, networking, mingling, readings, and discussion at Anaheim Central Library's 3rd Annual Indie Author Day on Saturday, October 13, from 1:00-4:30pm, a day in which libraries across the U.S. and Canada will host local events that support independently published authors!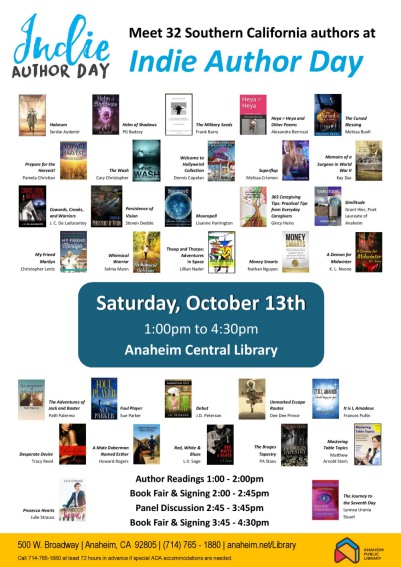 The event will kick-off with author readings from 1:00-2:00pm, hosted by participating author Christopher Lentz, in which ten authors will read a sampling of their work to showcase the talent assembled. Following the author readings, from 2:00-2:45pm, attendees will have the opportunity to visit with authors at their tables as well as purchase and have books signed.
Following the book fair and signings, from 2:45-3:45pm, attendees will enjoy a panel discussion moderated by Grant Hier, Poet Laureate of Anaheim, and featuring panel members Serdar Aydemir, Frank Barry, Selma Mann, and K.L. Noone, whose works represent a wide cross-section of writing genres and styles.
Following the panel discussion, from 3:45-4:30pm, attendees will have another opportunity to visit with authors at their tables as well as purchase signed books. Attendees will enjoy discovering new favorite indie authors as well as learning about writing, publishing, and book marketing first-hand from published authors.
This event is open to all ages, and no RSVPs are required.