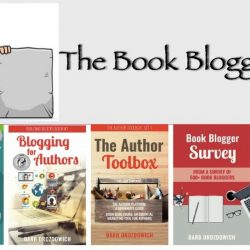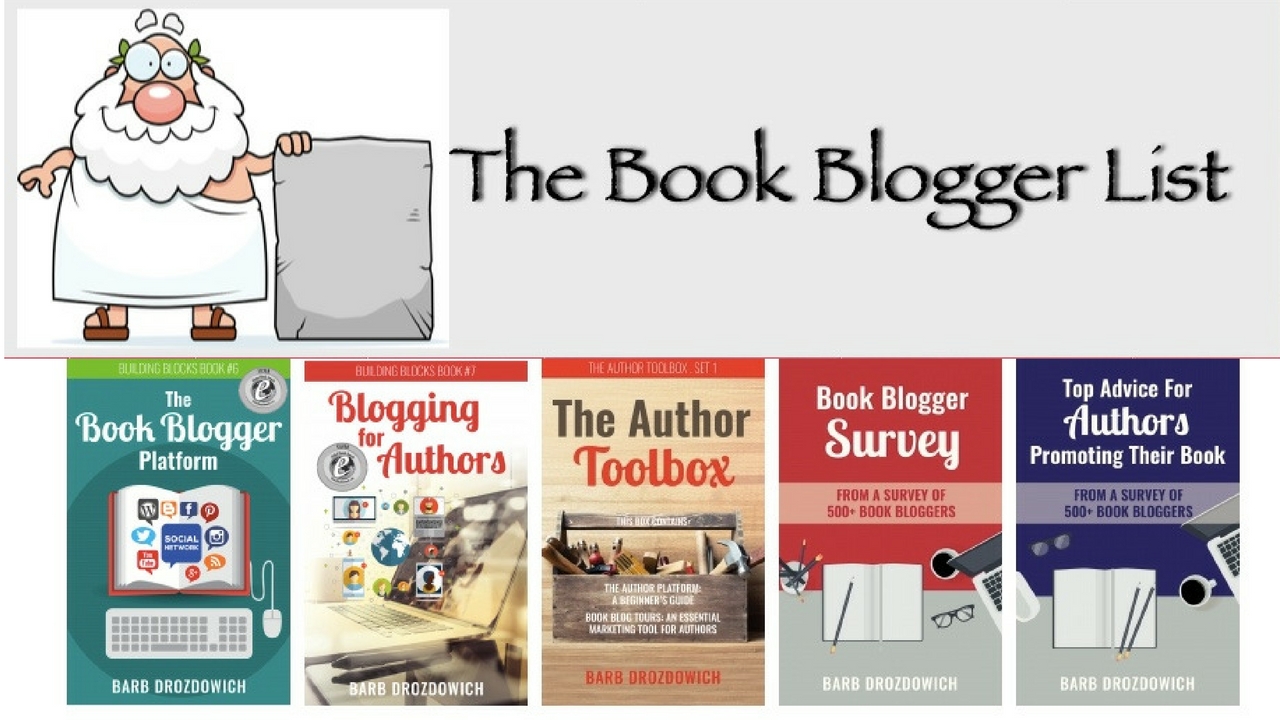 BARB DROZDOWICH: BOOK BLOGGERS ARE LOOKING FOR THE NEXT GREAT BOOK
Book reviews and book bloggers can make or break a book. One of the most common mistakes beginners in self-publishing do is to put their book on Amazon then thinking about marketing plan, which includes the reviews and the book bloggers. We talked to Barb Drozdowich, an author, trainer, author coach, and book blogger, the mastermind behind The Book Blogger List – the best book bloggers resource you will get on the Internet. Find out the DO's and DON'Ts of approaching book bloggers plus many other useful insights in the interview bellow. 
THE BOOK BLOGGER LIST IS A GOLDMINE FOR AUTHORS. WHAT IS THE STORY BEHIND IT? 
Great question! I work with authors every day, helping them understand the technical side of being an author – blogging, social media, etc. I get (and got) a lot of questions on how to find book bloggers and how to get reviews. Before I started up my site, there were several sites that listed book bloggers and other reviewers in existence. None of them worked in the way that I wanted to teach authors to approach book bloggers. The ones in existence were either not kept up to date (and therefore frustrating to look through as many of the blogs listed had been abandoned) or the bloggers were listed in alphabetical order, but not according to genre. What I try to teach my authors is that not everyone reads every genre of book. Bloggers may be very serious, but they are not equivalent to professional reviewers, like found on the New York Times, that will weigh in with an opinion on any book, any genre. Bloggers are typically voracious, passionate readers that have preferences in their reading material. In my experience, regardless of what someone says, everyone has preferences – they may be willing to read any genre, but will typically gravitate towards a selection of genres.
So when trying to teach authors how to find bloggers that love the genre they write, I was frustrated with the existing tools. I threatened repeatedly to create my own site…finally giving in and putting together the first version of The Book Blogger List in early 2013. I envisioned listing my blog and maybe 50 or so bloggers. The response was and continues to be totally overwhelming! The site very quickly became a self-listing (for bloggers) and free to search (for authors) site that organized listings by genre of preference. I created it myself and I maintain it by myself. I put about 35 to 40 hours of work each week into it.
THERE ARE CURRENTLY 1700 BLOGGERS LISTED ON YOUR WEBSITE. WHAT ARE THE SELECTION CRITERIA?
I've actually created around 3000 listings since the site was created. Guess I should update the information on the site 🙂 I receive about 100 submissions each month, but typically get overwhelmed with submissions on holidays and long weekends. For example, two Christmases ago, I received just over 1000 submissions between Christmas and New Years and have never really caught up from that swamping! In fact, I was stunned to be written up on Publisher's Weekly some time ago. Although the initial 30 or so listings were solicited – I actually sent out emails to some blogging friends and asked them to submit their sites – ever since then, bloggers just seem to find me. I encourage bloggers to post a badge on their sidebar to advertise the site, but have done nothing else to advertise. Bloggers submit using a form and I create listings from that submission. In actual fact, the submission form creates most of the entry, but I add some graphics and a link to the blog after checking the listing.
My selection criteria aren't strict. The blog has to be active – I try to check the listings every 2 months or so and blogs that aren't active are removed. The blog has to primarily be about books. In other words – the blog can feature all sorts of topics, but the majority of the posts have to be about books – feature, reviews, etc. The blog can be an author blog, but they must feature other authors. The blog has to have a method of being contacted – it doesn't have to be email, it can be Facebook, for example, but there must be a point of contact. Other than that, pretty much everything else goes. I don't judge content, nor do I judge the frequency of blogging as long as the blog is ticking along. I leave the judgement up to the authors who are asking for help. They need to look at each blog and decide whether they are comfortable having that blogger feature their book.
YOU ARE BOOK BLOGGER YOURSELF. WHAT ARE THE TOP THREE MISTAKES AUTHORS MAKE WHEN ASKING YOU TO REVIEW THEIR BOOKS?
You are correct – I have been a book blogger for years and see my book blog as an extension of myself. I love sharing my thoughts about the latest book I've read! I've actually done 2 extensive surveys of book bloggers – the first one resulted in my first book – The Author's Guide to Working With Book Bloggers and the second one ending last January. The first survey was done out of curiosity – I wanted to see if my fellow bloggers were seeing the same difficulties as I was. The book came from me wanting to help authors – to educate them. I'm now on the second edition of that book and continue to get lovely comments from authors who have picked up a copy. The second survey I attacked in a more scientific way. The results were great – not a lot has changed in terms of the answers – still seeing a lack of understanding on the part of authors and other PR professionals, but this time, I decided to publish the results (for 99 cents) so that more than authors could learn from the information that I gathered. The latest is simply titled  Book Blogger Survey and contains the actual results as well as some analysis.
So your question was what are the top 3 mistakes that authors make. From my survey results, I'd say that the tip 3 mistakes are:
1) Asking any blogger to review your book  – be it someone who follows an author on Twitter, Facebook – or someone they have run across on social media – all bloggers have preferences and a large portion of them have a review policy or  guidelines on their blog that will guide authors in the submission process – including the genre they like to read
2) Bullying/shaming bloggers – even after bloggers have said no (or not responded) the author tries to pressure bloggers into reading their book. I've experienced this quite a few times. Bullying might be a bit of a strong word for some situations, but I've had authors repeatedly try to convince me that I will like their Horror novel because it has a happy ending (as an example). I read romance and I'm pretty clear where my tastes lie.
3) Mass mail or bulk mail every blogger the same note – we call these "Dear Blogger" notes. My survey indicates that this is just a waste of time. The number of bloggers who even open unsolicited emails is really low. Compound that with the number of bloggers who will accept a review request from such a note is even lower.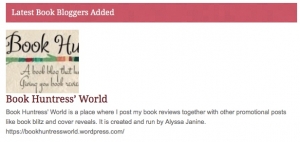 WHAT ARE YOUR TOP THREE RECOMMENDATIONS FOR AUTHORS WHO WANT TO REACH OUT TO BOOK BLOGGERS?
The easy answer is do the opposite of the 3 big mistakes. Honestly, as time consuming as it is, I encourage my authors to create a list of bloggers who read the genre they write and contact them individually – following their guidelines – asking for a review or feature. The ones that accept (and many will if approach properly) ask them if you can add them to a mailing list to let them know about future books or specials coming up. If the blogger liked the book and enjoyed a respectful contact with the author, many will say yes. This will provide the author with a pool of bloggers/reviewers going forward. In my experience, bloggers are voracious readers and are always looking for another quality book to read!
YOU ARE AN AUTHOR OF 13 BOOKS. HOW DID YOU USE BOOK BLOGS TO PROMOTE THEM?
I try really hard to follow my own advice 🙂 My audience is mostly authors – bloggers to a certain extent – but many authors have blogs and feature or review books. My books have mainly been written to be as helpful as I can – not to make a million dollars – so if I can help even one author understand the technical world they they find themselves in, my job is complete! At my heart, I'm still a voracious reader that is reading faster than authors can write, so any help I can provide to get books published means I have more to read 🙂
It is a joy every day to take my skills from years of teaching and technical training to help creative people understand the technical world of book promotion – a world that doesn't come easily to them. I'm the one of the group who can't create dialogue to save my life, but I excel at explaining complex things to non-technical people!